Antonio Brown is, by all accounts, a household name in football. However, could he be considered a wide receiver value? Fans likely remember his run of dominance from 2013-2018, where Brown averaged over 1500 receiving yards and enjoyed four (!) WR1 overall fantasy seasons. But the unraveling began after his trade out of Pittsburgh in 2019, and Brown's fall from grace has carried over to fantasy football. So what should be expected from this four-time All-Pro receiver now?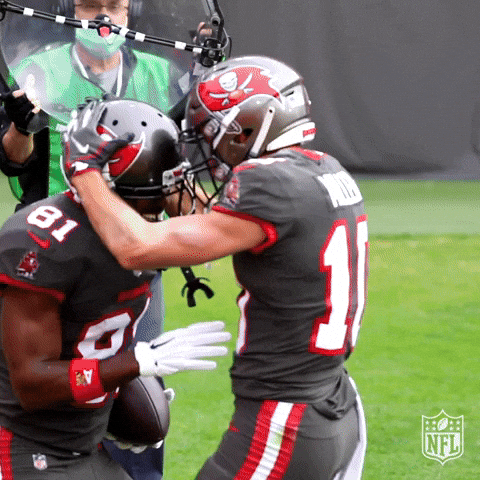 Sustainable Pass Volume
Over the past two seasons, the Bruce Arians-led Tampa Buccaneers have ranked 3rd and 6th in the NFL in pass attempts. In Tom Brady's inaugural season, they passed an average of 39 times per game. The volume was consistent throughout the season, as the Buccaneers threw nearly the same amount of passes per game in the first eight games without Brown (38.6) as they did in the final eight games with Brown (39.6). Additionally, their pass rate of 66.5% in neutral game scripts was the fourth highest in the NFL from Weeks 9-17. With Arians and Brady running it back in an attempt to repeat as champions, everything points toward the Buccaneers attempts to hover around 40 per game again in 2021.
Secure Role Could Be Massive in Brown's Wide Receiver Value
Brown may no longer be the far and away top receiving option like he was in Pittsburgh, but fortunately, Tampa Bay has plenty to go around. As a result, you can easily disprove the "too many mouths to feed" narrative when you look at the second half of 2020 for Tampa Bay.
The Buccaneers receiving corps is stacked, composed of two other stud receivers beside Brown. Mike Evans has never had less than 1000 receiving yards in a season, finishing as a top-24 fantasy receiver four times and a top-12 receiver three times. Chris Godwin put up a 1300 yard season at the age of 23 and finished as the WR2 overall in 2019. And yet, Brown, who had not played in an NFL game since September 2019, stepped in and contributed in a significant way.
According to Pro Football Focus, from weeks 9-17, Brown tied Mike Evans for the team in targets (62), with Godwin close behind (54). The 19.5% target share is substantial enough to return wide receiver value.
Since 2018, wide receivers finishing between WR13-WR24 have averaged 121 targets. Assuming the Bucs attempt at least 627 passes (their running average since 2018), Brown would be in line for 122 targets in a 16-game season. With the addition of a 17th game, Brown could be in line for around 130 targets in 2021.
Still Skilled
One development from Brown's 2020 season was the change in his usage, compared to his career in Pittsburgh. After being used at all levels of the field earlier in his career, Brown saw over 67% of his targets come within 10 yards of the line of scrimmage. With Evans dominating as a deep threat, Brown took on a new role and continued to excel.
Brown's average depth of target (aDOT) was the lowest it has been since his rookie season (9.4). However, Brown's yards after catch per reception (YAC/Rec) was his highest mark since 2013 when he was 25 years old! The 5.2 YAC/Rec was tied for 3rd-best from weeks 9-17, trailing only AJ Brown and Darnell Mooney.
Current Value
According to Fantasy Pros average draft position (ADP), Brown is the 46th wide receiver drafted, usually in the 9th round. Other receivers drafted before Brown include rookie Jaylen Waddle, Michael Pittman, Marquise Brown, Laviska Shenault, and Curtis Samuel. None of those above wide receivers provide me much confidence that they will return top-24 fantasy numbers at the position in 2021. However, Brown has a fantasy WR2 floor with a much higher ceiling than any others in that range, making him a tremendous wide receiver value in drafts.
Looking for other wide receivers to target in your drafts? Check out Tom's article that looks at reliable options at the position.
You can find Taylor on Twitter @_TaylorCornell, talking all things fantasy football and Cincinnati Bengals (Who Dey)!