Since 2010, just 20 of the 251 running backs selected would have finished in the Top 12 for 2020 in their sophomore campaign. Yet every year, we look for those who can and will continue to dominate. There have been flags planted for Miles Sanders, Kerryon Johnson, and  Leonard Fournette, all of which have left souls crushed and dreams dashed. However, can 2021 be different?
Two players give me hope to break into the Top 12 in 2020: J.K. Dobbins and D'Andre Swift. Both had rookie average draft positions at 1.05, and neither created much separation as they both had strong finishes. Is there one who is more likely to succeed and the other more likely to break your heart? Diving into the numbers, it becomes quite apparent. 
Applying Hindsight
Volume has been vital for those second-year backs to produce high-end numbers. Out of the 20 backs mentioned above, only Tarik Cohen had less than 200 total touches, and only three – including Cohen – had less than 270. However, volume wasn't the only thing consistent with the majority of these sophomores: 16 played 14 or more games, 19 had at least eight touchdowns, and 15 had more than 40 receptions. They were healthy, able to get in the end zone, and used in the passing game. So how does this apply to Swift and Dobbins?
Forecasting Dobbins' future should be relatively more straightforward as he's in the same system with a similar supporting cast. However, Swift could be much more difficult. Swift's utilization under offensive coordinator Darrel Bevell as the season came to a close was ideal. Will it remain the same under new head coach Dan Campbell?
What we know about Campbell is he will be playing more of a CEO role for the Lions. He should allow offensive coordinator Anthony Lynn to call plays and run the offense. Lynn is a former running backs coach who had a very uneven coaching tenure in terms of playcalling for the Chargers. When coming in as the head coach in 2017, he kept Ken Whisenhunt to call the plays. They finished middle of the road in plays per game in 2017, followed by 28th in 2018. In 2019 the Chargers fired Whisenhunt midway through the season with Shane Steichen taking over, but not without a heavy dose of input from Lynn. They still finished in the bottom half in 2019, but in 2020 the Chargers game speed skyrocketed with Justin Herbert at the helm. They finished first, running over 70 plays per game.
As a former running back, Anthony has typically emphasized a robust run game approach. However, during these four years, the Chargers – although 15th or worse in plays run in three of four years – were top ten in pass attempts per game three times. Only in 2020 did they finish better than 19th in rush attempts per game. Swift owners: don't freak out. The running backs still saw over 300 carries per season split between Melvin Gordon, Austin Ekeler, along with a few other ancillary backs.
Although the volume might not have been ideal on the ground, the air usage should have you drooling. Over the four-year stint, Lynn went heavy with his targets to the running back. They never saw less than 100 targets and the Chargers even led the NFL in targets to the running back in 2019 with 174. Philip Rivers could be a reason to believe there was an immense amount of targets to the running back. But Rivers only crossed the 120 target threshold to his runningbacks two times prior to Lynn coming to town. With Lynn as the coach, he averaged over 151 per season. Some could say it's because Rivers didn't scramble, but Herbert had the 11th-most rushes among quarterbacks and still cracked 100 targets.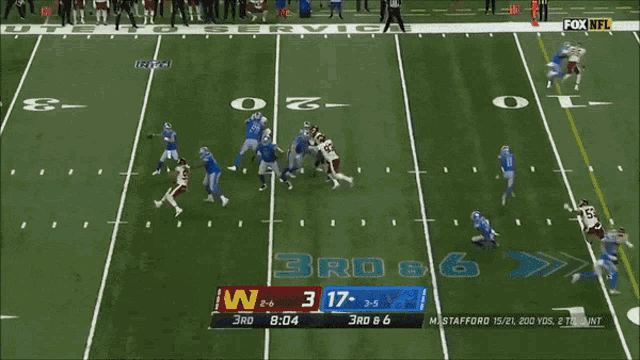 With Lions quarterback Jared Goff at quarterback (who averaged 6.5 fewer rushing attempts per season than Rivers) and no pass catchers currently on the roster of note outside of Hockenson, Swift could accumulate a healthy share of looks. The Lions have moved on from their defensive starters over the past two seasons, and Draft Kings' Sportsbook has them projected to only win five games. The negative game script should allow him to easily eclipse 80-plus targets and challenge the 100-target threshold which would be at the position.  If he is able to do so while maintaining his 7.8 yards per reception, it would add almost 150 fantasy points just off receiving alone. 
Can Swift Command 200 Carries to Help Him Eclipse the Top 12
Believe it or not, Detroit's strength in 2020 was their offensive line. Prior to 2016, they rarely invested in the offensive line. However, 2020 was the fourth time in the Lions history they spent two draft picks on the offensive line in the first four rounds. It's the second time they've done so in the past four years, setting up the new regime with some power in the trenches. PFF has them graded as 13th in run blocking and 10th in pass blocking as they look to potentially add to the line and hope to have a healthier Halapoulivaati Vaitai.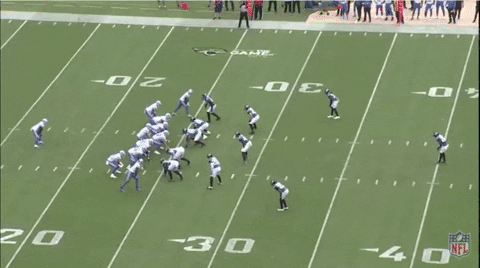 Although the Lions signed Jamaal Williams, we shouldn't expect him to take too much of Swift's workload. Adrian Peterson is leaving 168 total touches and they lack other options in terms of being able to move the ball. Considering Lynn's offenses have called a minimum of 340 handoffs in each year, 300 should be the floor we will see for the Lions in 2021 and Swift will have the majority.
If there were any area where Williams could hurt Swift, it would be in the touchdown department. Williams was mixed in with Aaron Jones as a red-zone back for the Packers having 6 to Jones' 10 carries inside the five. This limited Jones' upside considerably after seeing 17 in 2019 which assisted him to the RB2 finish. Lynn has used goal-line backs as we saw with the Chargers. Gordon played in only 38 games from 2017-2019 and saw 29 red-zone carries. Austin Ekeler, during the same span, played 46 games and got just 15. Even in 2020, Joshua Kelly and Kalen Ballage saw 15 compared to Ekeler's two. The good news is red-zone opportunities shouldn't hinder his ability to finish in the Top 12. Swift only saw a 35.1% red zone share and still finished with ten touchdowns as over 22.0% of Adrian Peterson's carries came from inside the 20.
What About Swift's Reliability
Detroit's coaching staff was slow to bring up Swift his rookie year. He suffered a minor injury in camp in which the coaching staff was very cautious not to bring him back too soon. He didn't see ten carries in a game till Week 6. Then following his concussion suffered in Week 10, the coaching staff held him out of additional games, albeit he passed the concussion protocol. It's no surprise they were bringing him up slow as he was their future star and only potential offensive weapon in 2021 with Golladay being a free agent. But I don't expect the Lions current staff to hinder Swift's progress moving forward. This staff has always put their best players on the field and should continue with Campbell calling the shots. Swift has the talent and will have the opportunity to finish Top 12.    
The Case for J.K. Dobbins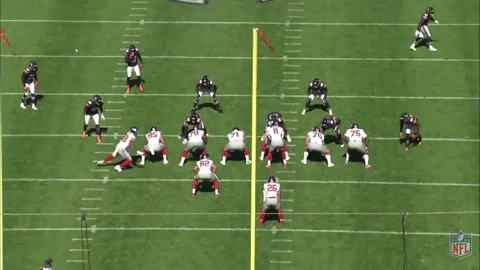 Dobbins is in an intriguing spot. There's been one significant change which positively affects his situation, and no, it's not Mark Ingram going to Houston. One of the least talked about yet most impactful moves of the 2021 offseason was the signing of guard Kevin Zeitler. Bradley Bozeman was a solid fill-in, but Zeitler should get them closer to 2019 when the Ravens had Marshall Yanda on the line. Although Dobbins saw superb run-blocking efficiency, both Ingram and Gus Edwards saw a drop of over five from 2019 to 2020. Zeitler should be able to give Dobbins even more room to run.
The more considerable aspect for Dobbins is he did everything you yearn to see in a running back. According to PlayerProfiler, he had the best breakaway run rate (8.2%) and the fifth-best juke rate (30.9%). In addition, as Ingram's involvement declined late in the season, Dobbins' increased as he averaged almost 12 carries per game down the stretch. Even with Edwards resigning, his carries will continue to climb as he takes over a more prominent role in this offense. If he gets 15 carries a game it would put him at 240 (over a 16 game schedule).
Originally tweeted by Eleven Warriors (@11W) on January 3, 2021.
Even if Dobbins' efficiency does regress, five yards per carry at 240 attempts still has him at 1,200. Pointing out his red-zone usage following the Week 7 bye makes Dobbins infinitely more enticing. In Weeks 1-6, he saw two carries inside the 20. From Week 8 on, 25 carries with 8 being touchdowns. He converted 88.9% of his rushing attempts inside the five into touchdowns. As mentioned above, touchdowns play a large part in being a Top 12 back.    
Is Dobbins the Clear-Cut Winner?
There is one area of concern for Dobbins. Baltimore only targeted their tailback 50 times in 2020 and 51 in 2019. Outside of the Titans, no other team targeted their back less than 60 times. On top of the lack of targets, he was only targeted twice in the red zone (once in the playoffs) and had the highest drop rate of any back who saw 15 or more total targets (16.7%).
Verdict: Can Both Finish Top 12?
Swift is undoubtedly a Top 12 running back and potentially a top-5 asset in dynasty. I don't know if the same could be said for Dobbins. Variables won't influence Swift's value as he will continue to rise as a fantasy asset for years to come. The better option in dynasty moving forward is D'Andre Swift.
Dobbins and Swift are both running backs to be desired. The choice is somewhat murky as to who's the better long-term investment. As targets and touches can be sustainable and predicted, breakaway runs and juke rates cannot. Since 2016 there isn't a single running back who had a breakaway run rate of 7% or higher who could sustain the same level. There are also very few running backs who did the same with juke rate. Although we could see an increase in Dobbins' workload, there is a significant chance we see a decrease in efficiency. Without the work in the passing game, it is possible Swift finally creates a separation in value during the 2021 season.
You can follow me on Twitter @FF_Intervention and make sure to follow @JoinOurCircle_
If you want to hear more on J.K. Dobbins, check out Zack Zanders newest Quick Shot
Check out our YouTube page, and meet the entire Support Group for Fantasy Intervention. If you're interested in writing with us go check out our Writing Standards