As a lifelong Patriots fan, I have grown very familiar with the teams in the AFC East. Below is my take on where things stand through Week Three. Every couple of weeks, I will be writing about the fantasy-relevant storylines providing a preview for the following weeks.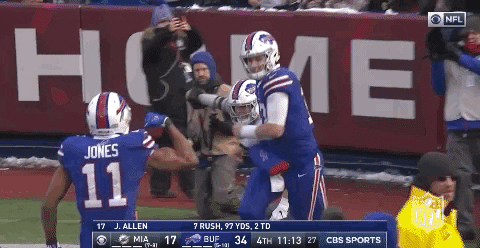 1. Buffalo Bills (2-1)
Storylines
The stories of Josh Allen's demise were greatly exaggerated.
Through two weeks, Josh Allen looked like the Allen of old. Heading into a Week 3 matchup with Washington, he was the QB17, behind Sam Darnold, Jameis Winston, and Tyrod Taylor. In addition, last year's QB1 had gone from averaging 25.3 PPG to 17.4 PPG, and his completion percentage took a nosedive from 69.2% in 2020 to 56% (in line with his 2018-2019 56.3% completion percentage).
However, Allen put all of that behind him, going 32/43 for 358 yards and five total touchdowns in Buffalo's 43-21 rout. With Houston coming to town Week 3 and a projected high-scoring affair with Kansas City the Week 4, Allen looks poised to retake his seat with the upper-echelon fantasy quarterbacks.
Can Buffalo's running game be trusted?
Short answer: nope. Long answer: it's complicated.
After Zach Moss' surprising benching in Week 1, it appeared that Devin Singletary had taken control of a backfield that many avoided this off-season. Against a notoriously stingy Steelers defense, Singletary carried the ball 11 times for 72 yards and added three receptions for 8 yards. While his 14 touches weren't an ideal volume that you'd like to see in a lead back, it still looked like Singletary had control of the Bills backfield.
Then Week 2 came, and Zach Moss was active. While Singletary still had the bulk of the touches, Moss did what most thought he was in line to do and vulture two red-zone touchdowns (seven yards and one yard). Singletary had 13 carries for 82 yards and a score of his own, but you would have loved to see him get those goal-line carries.
The Week 3 matchup against Washington was not ideal and proved to throw another twist into the fantasy landscape. Moss led the team in carries (13), touches (16), yards (91), and had a receiving touchdown. Singletary still had 12 touches but mustered only 26 yards.
With no lead back identified and Josh Allen continuing to be a threat on the ground, this looks like a backfield to avoid until there is an injury or the picture gets clearer.
Trending Players
Cole Beasley
He might not have any touchdowns in 2021, but he is proving to be Josh Allen's safety valve with 30 targets (23 receptions) through three weeks. A favorable schedule ahead makes Beasley a solid high-floor buy option in PPR.
Emmanuel Sanders
With John Brown leaving town, Sanders has taken the opportunity to fill his role. Through three weeks, he has 11 receptions for 194 yards and two touchdowns. Stefon Diggs has been off to a slow(ish) start but will eventually be back to his alpha status in the pecking order, so now might be a good time to sell high on Sanders.
A Look Ahead
The following two weeks for Buffalo are looking vary favorable fantasy-wise.
Next week they welcome Houston, who is giving up 25.3 PPG and are playing their backup quarterback. Things seem especially good for Josh Allen as the Texans are giving up 283 YPG through the air and have allowed three rushing touchdowns to opposing quarterbacks.
The following week is a projected shootout with the Chiefs, whose defense all of a sudden can't stop anyone. Kansas City allowed a league-leading 31.6 PPG and allowed seven rushing touchdowns in the first two weeks. However, with their offense still being tops in the NFL, expect a lot of fantasy points.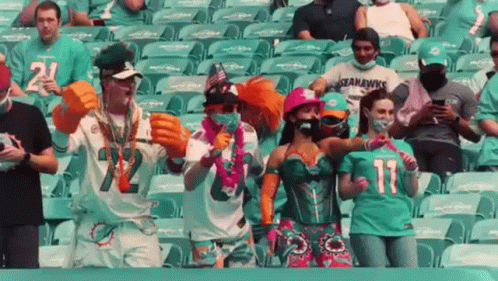 2. Miami Dolphins (1-2)
Storylines
Tua's Sluggish Start
I, for one, was anticipating a Tua Tagovailoa breakout this season, so 2021 has been a disappointment. In Week 1, The Dolphins traveled to New England, and Tagovailoa did enough to help the Dolphins win (217 yards and two total touchdowns), but nobody was blown away by the performance. Then in Week 2, Tua succumbed to some broken ribs just four passes into the game). He was placed on IR, so he'll be out for at least a couple more weeks.
Even when Tua returns, a rib injury is long-term and i aggravated pretty easily. He should take the reigns back from Jacoby Brissett upon his return, though. Brissett has gone 56/89 for 384 yards (trying to wrap my head around 4.3 yards per attempt) and an INT. He also added in a rushing touchdown in Week 3, but it's likely not enough to keep the job from Tagovailoa at this point.
So Much for a Bell Cow Back
When Miami did not add a big-name free agent at running back and held off on drafting one until late, most assumed that this meant that they believed Gaskin's 2020 was not a fluke. Well, not so fast. In 10 games (7 starts) last year, Gaskin totaled 183 touches for 972 yards and five touchdowns, leading many to believe this 2019 7th rounder could be a diamond in the rough. While the quarterback and line play has done him no favors, Gaskin has not delivered so far.
Through three weeks, Gaskin is only averaging 13 touches for 65 yards per game and has not found paydirt yet. While Malcolm Brown does not pose a serious threat, he did have a red-zone score this week and had the talent to see his role grow. Unfortunately, you're not going to get a decent return if you try to trade Gaskin now, so your best bet is to hold on and hope for the best.
Trending Players
Jaylen Waddle
Coming into the draft, a growing number of prognosticators favored Jaylen Waddle over his Alabama teammate DeVonta Smith. Since Arriving in Miami, the sixth overall pick has proven to be a target magnet, piling up nearly nine targets a week. While the yards/reception are low (7.59), the volume will make him a safe PPR weapon, especially with matchups against Indianapolis and Tampa the next two weeks (the two worst teams in the league against the slot).
Mike Gesicki
The chemistry I thought was there with Tua did not show itself in Week 1, but since Brissett has taken over, Gesicki has come alive. With Brissett at the helm, Gesicki has seen 18 targets which he converted into 13 receptions for 127 yards. The TE landscape is notoriously thin, so if a frustrated owner has given up on him, I'd say he's worth a roster spot.
A Look Ahead
This week Miami welcomes an Indianapolis Colts team hungry for a win after starting the season 0-3. The Colts came into the season looking like a solid defense, but they've allowed 80 points in three weeks. Opposing running backs have rushed for 324 yards on 73 carries and added 105 yards on 11 receptions, so this could be a get-right game for Gaskin. Where they are terrible is in the slot. Kupp, Lockett, and Westbrook have combined for five touchdowns, tied for the most with the Buccaneers. Waddle lines up in the slot on 73% of his snaps. Speaking of Tampa, Miami travels there in Week 5. The Buccaneers have a star-studded defense but have allowed 88 points in three weeks and will be coming off an emotional Week Four matchup in New England.
3. New England Patriots (1-2)
Storylines
The offensive line is a MESS!
Going into the season, PFF ranked the Patriots as having a Top-10 offensive line. So far, this has not been the case. In three games, rookie quarterback Mac Jones has been sacked six times, and Week 3 alone was hit 11 times. Losing Trent Brown was a big hit but should not result in the performance we've seen. There have already been calls for Belichick to beg offensive line guru and good friend Dante Scarnecchia to come out of retirement (which is unlikely to happen).
The running game has taken a hit as well. After a solid performance on the ground against the Dolphins (30 carries, 125 yards), the Pats have mustered only 150 yards on 41 carries in Weeks 2 and 3 combined. A team with a rookie signal-caller needs to have a more substantial run game than this. With the injury to James White, Damien Harris will have to carry more of the load and do better with what he is given.
Free Agents are off to a slow start.
The big story of the off-season for the Patriots was the spending spree they went on to rebuild the offense. So far, they have not gotten their money's worth. Jonnu Smith (TE26) has been plagued with the drops, Hunter Henry (TE23) is a ghost, and incumbent Jakobi Meyers has as many receptions as Kendrick Bourne (WR54), and Nelson Agholor (WR58) combined. It's understood that it will take some time for the new guys to gel with the rookie quarterback, but fantasy owners are getting impatient.
Trending Players
Damien Harris
I entered the season as the conductor of the Damien Harris hype-train, and after a strong Week One, he has dramatically tailed off. As I mentioned above, much of this has to do with the subpar offensive line play, but if Harris wants to be the lead dog, he needs to do more with his opportunities. Week Four brings a tough matchup with the Bucs, but after that, he's got Houston, Dallas, and the Jets, so now might be your time to buy low.
J.J. Taylor
James White was off to a hot start but suffered what sounds like a severe hip injury against the Saints in Week 3. While most will look at rookie Rhamondre Stevenson as the next man up, White's role in the offense was as a pass-catcher for the most part. This is where Taylor excels. He is unowned in most leagues and is worth a flyer if you are thin at RB.
A Look Ahead
Week 4 marks the return of Tom Brady as the Buccaneers travel to Foxboro. The Buccaneers are coming off a tough loss to the Rams, and given their motivation and skill, I can't recommend any Patriots in Week 4. After that, though, they travel to Houston and host Dallas, which are both favorable matchups. Keep an eye out for some of the Patriots skill position players coming available in your league.
4. New York Jets (0-3)
Storylines
The Jets are not playing it slow with Zach Wilson
If it weren't for Trevor Lawrence's early struggles, the big story of the rookie quarterback class would be Wilson. The Jets are averaging less than seven points a game through three weeks. Zach Wilson has thrown seven interceptions (including four against New England). Also troubling is that his completion percentage sits at a discouraging 55.7%. Few expected Wilson to light the league on fire given the Jets history with young quarterbacks, but the youthful signal-caller looks overwhelmed through three weeks.
The backfield holds little to no short-term and long-term value.
Entering the season, the backfield did not have a lead workhorse with veteran Tevin Coleman, young returning Ty Johnson, and rookie Michael Carter not exciting anyone. Thus far, there is still little clarity. They have combined for 57 rushes for 219 yards and zero touchdowns. Each week has seen a different leader in touches.
Still, conventional wisdom would say that Carter will be given the most opportunity as we advance as the Jets try to identify a running back of the future. At this point, though, I would not feel good about any of them so far and in the future.
Trending Players
Braxton Berrios
With Jameson Crowder out, Braxton Berrios has stepped into the safety valve role and filled it quite admirably. The undrafted wide receiver leads the Jets in receptions and yards and has shown a solid report with Zach Wilson. If this continues when Crowder returns, Berrios may be a solid bench stash in deeper leagues as this offense will be playing from behind a lot this year.
Corey Davis
Corey Davis made the jump from Tennessee to New York this off-season, and even though Zach Wilson has gotten off to a slow start, Davis has worked well with the young signal-caller and has gone 14/146/2 so far. As I mentioned with Berrios, this offense will be playing from behind most of the time—volume should be there throughout the season.
A Look Ahead
The Jets will get a bit of a reprieve over the next couple of weeks as they welcome the struggling Titans to town. Tennessee has given up 28 PPG so far, and they are dealing with a couple of significant injuries. This game will be closer than most think and could be a spot for an unexpected shootout.
The following week is a matchup with the dreadful Atlanta Falcons, who are giving up 31+ PPG this year and have been cannon fodder for opposing quarterbacks. Hurts, Brady, and Jones have combined to go 75/106 (70.7%) 806 yards, eight touchdowns, and 0 interceptions. This might be a good spot for some off-the-grid DFS plays.