During the offseason I want to keep the Fantasy Intervention team involved in the rookie process. I rallied eleven other support members to do a rookie mock draft (January 2021). This mock draft is obviously early and will change as the year moves on so check back in for our updates as the offseason progresses.
Mock Draft Order: 12 team, SuperFlex, Tight End premium League.
Mock Draft Round 1
1.01: Trevor Lawrence (QB) – Clemson
Not since Andrew Luck has there been an easier pick at the 1.01 in SupeFlex formats. At 6'6 and 220 pounds with good mobility and elite arm talent, Trevor Lawrence is the perfect prototype and projects to be an elite NFL quarterback. Lawrence enters the NFL having never posted a lower completion percentage than 65.2 and threw 90 touchdowns to 17 interceptions over the last three seasons. The only justifications for not taking Lawrence at 1.01 would be team structure and landing spot.
However, in a SuperFlex league I simply can't have enough quarterbacks, especially of the talent level of Lawrence. Given Jacksonville Jaguars have locked up the number one overall pick and are presumably taking Lawrence with said pick, his stock is as high as it's ever been. The prospect of Lawrence having Wide Receivers D.J. Chark, Collin Johnson and Laviska Shenault Jr. for the foreseeable future makes him a foundational piece for any dynasty roster.
1.02: Justin Fields (QB) – OSU
Quarterbacks in SuperFlex are extremely valuable. Justin Fields is QB2 and there are people who believe him to be QB1. True or not, Fields is extremely talented and I am happy to snag him at the 1.02. Quarterbacks are the cheapest during the draft.
Drafting at the 1.02 will mean my team is not a contender, in a SuperFlex league, I am happy to snag Fields and bolster the quarterback group.
If I traded for this pick and my team is set, I am more than happy to snag Fields at 1.02 so I can trade Fields for any of the remaining rookies and a 2022 first round pick — or replacing a rookie with a player of similar value like: D'Andre Swift, D.J. Moore, etc.
1.03: Najee Harris (RB) – ALA
By a razor's edge my RB1 in this class is currently North Carolina's Javonte Williams, and if I was on the clock at the 1.03 I would first look to trade back. However, I will select Najee Harris in this mock as the Alabama product, who is likely to hear his name called early in April's draft, presents the highest floor option at the position.

The only reason not to put Harris as RB1 in my opinion is his draft day age of 23: which belies a later breakout and shortened shelf life. But at this moment, Harris is the best runner in the class, putting up a whopping 1,387 yards and 24 touchdowns in 2020. Standing 6'2" – 230, Harris is a foundational dynasty running back who profiles to be the most fluid pass catching power back the NFL has seen since Steven Jackson.
Editors Note: The NFL Draft and Free Agency can potentially shake up rookie drafts. Stay tuned for future mocks as the offseason progresses.
1.04: Ja'Marr Chase (WR) – LSU
With the top quarterbacks off the board and the best running back the choice was easy. Why not select the best wide receiver in this class who will come in and have an impact right away. Starting for LSU in 2019 Chase had 84 catches for 1780 yards and an SEC record 20 touchdowns. Chase was so good he won the Fred Biletnikoff award as the best receiver in college football. No brainer for me to pick the best player left on the board.
1.05: Kyle Pitts (TE) – Florida
I can certainly understand taking Kyle Pitts at 1.05 is a reach even in a mock draft, but after the positional scarcity we saw at tight end throughout the 2020 season I want to make sure I'm locking in a top option for years to come. Having a top tight end has become almost mandatory as the elite tier has given between a 5.4 and 8.6 point weekly advantage over the last five years. At 6'6" and 240 pounds with great speed and a monstrous catch radius, Kyle Pitts seems to fit the prototype as the NFL's next elite tight end. The idea of taking Travis Etienne was tantalizing given his likely ability to be a plug-in option Week 1, but I prefer Pitts's long-term prospects.
1.06: Rashod Bateman (WR) – Minnesota
With a COVID shortened season, Bateman only saw the field for 5 contests with Minnesota. In those 5, Bateman managed 36 catches for 472 yards and two touchdowns. Not a great sample size. However, if you look back to 2019, Bateman's sophomore season with the Gophers, he amassed 1219 yards and 11 touchdowns on 60 catches. That is impressive. Bateman has the speed and ability to make catches in traffic to translate to an NFL receiver, making him my number two receiver in the draft and an easy grab at 1.06.
1.07: DeVonta Smith (WR) – Alabama
As the first wide receiver since 1991 to win the Heisman Trophy, Smith is sitting pretty at 105 receptions for 1,641 yards and 20 touchdowns through the air for 2020. Smith is definitely one of the top prospects in the upcoming draft class and with Ja'Marr Chase off the board at 1.07 this is a steal to me.
1.08: Travis Etienne (RB) – Clemson
At 1.08, I felt like getting the RB2 from this class was an absolute steal. Though I don't see Etienne as the caliber running back Najee Harris is, make no mistake tEtienne is a 3 down back in the NFL and is a threat to break it at any time. I had Etienne as the RB5 in what looks like a historic class last year and though he was somewhat disappointing this season, I see him as a no brainer top 5 regardless of format.
1.09: Zach Wilson (QB) – BYU
To secure a quarterback in the late 1st of a SuperFlex rookie draft seems like great value, especially when Wilson is projected to be a first round NFL pick. While Wilson does not profile as a player to come in and immediately becomes a top fantasy option, we have seen perceived 'raw' quarterbacks start sooner than later (i.e., Mitch Trubisky). With the chance Wilson surprises with early production much like Justin Herbert, it's a risk I am willing to take at this spot of the draft.
1.10: Rondale Moore (WR) – Purdue
Look, I know he is 5 foot 9 inches with spikes on but, but he is a freak on the field. He has a 4.33-second 40-yard dash that melts the screen. Not to mention he grades high on some key skills for receiving, rushing and returning which has made him one of college football's most electric players!
After this injury plagued season you can probably get him in the early second round so I may have reached a bit but he is a homerun player in my eyes.
Ceiling – Tyreek Hill // Floor – Tavon Austin
1.11: Trey Lance (QB) – North Dakota
This draft being a SuperFlex format makes the quarterback position one of the most valuable. With the 1.11 pick I took one of the most versatile quarterbacks for the 2021 NFL Draft in Trey Lance.
With a breakout season in his Freshman season for North Dakota St. Lance made a lot of noise throwing for 2,786 yards and 28 touchdowns with no interceptions finishing with a QBR of 180.6. The most impressive part of Lance's game isn't just his accuracy and ability to throw the deep ball. Lance has the ability to avoid the blitz and keep his eyes down field when a play breaks down allowing him to use his leg speed to take off and score. In 2019, Lance ran the ball 169 times for 1,100 yards and 14 touchdowns. Making him a true dual threat at the position.
Lance only played in one game as a Sophomore in 2020 due to the Covid-19 pandemic. This was his audition to the big spotlight for the NFL. In front of 20 NFL scouts in attendance Lance didn't disappoint. Rushing 15 times for 143 yards and two TDs and completing 15 of 30 passes for 149 yards and two scores. Unfortunately he threw his first and only career interception after 307 consecutive attempts without a pick. Finishing his collegiate career with a 17-0 record as a starting quarterback.
With Lance coming in at 6'3" 221lbs. I comp him to Jalen Hurts with his arm strength and running ability being his best attributes.
1.12: Kenny Gainwell (RB) – Memphis
I was torn on this one. Kenny Gainwell is the running back I've been touting since last October. In Memphis he redshirted his Freshman year sitting behind Tony Pollard, Darrell Henderson, and Antonio Gibson. After Pollard and Henderson were drafted in 2018, there was a little more hope for Gainwell, but he was still projected to split work with Gibson. As the season approached, the talent was too visible. He commanded carries and forced Gibson into more of a receiver role. The result was incredible.
In 2019 he amassed 1,459 yards and 13 touchdowns on the ground while racking up a whopping 51 receptions for 610 yards and 3 touchdowns in the air. The hype building around Gainwell was about to skyrocket, however, he made the decision to opt out in 2020 after losing four family members to Covid-19. He is slightly undersized at 5'10 190 and most NFL teams want the bigger, more physical back like the other three offer. 

Javonte Williams was on the board, who I do have ranked higher, but I'm a big proponent in "Getting Your Guy" and Gainwell is far less landing spot dependent. His explosive run style and ability to find holes in the defense make him far less scheme dependent. His pass-catching upside gives him a ceiling of Saints' Alvin Kamara and Panthers' Christian McCaffrey. Pending his workout metrics from the combine along with how he weighs in, I strongly believe he's a bust proof running back and I'm going to have shares of him everywhere
Mock Draft Round 2
2.01: Chuba Hubbard (RB) – Oklahoma State
With the 2.01, positional need becomes paramount. There is no position more scarce than running back. Selecting one at this spot can be tricky since the consensus top 2 or 3 backs will likely be gone. The narratives leading into April's draft will be centered around Clemson running back Travis Etienne being more polished and Alabama standout Najee Harris having a better pedigree.
However, if you're fortunate enough to land a high quality player with upside, this could be the type of pick to change your roster. Enter Oklahoma State running back Chuba Hubbard. Listed at 6'0 208 pounds, this speedster has the frame to add bulk and the physical metrics to be an immediate difference maker at the next level. While the combine is still months away, Hubbard is a former track star who has run as fast as 10.55 in the hundred meter dash, and a 22.07 in the 200 meters. To put his speed into perspective, it ranks .17 seconds behind legendary speedsters Chris Johnson and Bo Jackson. The word elite gets thrown around in the fantasy football world, but this is a case where elite is exactly what Hubbard could be at the next level.
2.02: Javonte Williams (RB) – North Carolina
I did not expect Williams to be available at the 2.02 — I am a huge believer in drafting running backs over wide receivers in rookie drafts, more so speaking of talented running backs like Williams. Contingent on landing spot, running backs have a greater chance of immediately producing compared to wide receivers.
Williams is built like an NFL running back should be: 5'10", 220 pounds, and he will be 21 years old entering the 2021 NFL season — in 2020 he rushed for 1,140 yards and totaled 22 touchdowns while tagging on a modest 25 receptions.
With three down potential, I am happy to snag Williams at pick 14.
2.03: Jaylen Waddle (WR) – Alabama
The speedy Alabama wideout may go underlooked, between nevitable comparisons to disappointing Raiders rookie Henry Ruggs, and Waddle's 2020 production being overshadowed by injury and Heisman winner DeVonta Smith. However, Waddle out-produced Smith as a true freshman, notching over 800 yards and seven touchdowns. While his speed is eye-catching, Waddle is not just a downfield burner. An excellent return man and Yards After Catch monster, Waddle is s complete wide receiver and a home run threat at any level of the field.
2.04: Amon-Ra St Brown (WR) – USC
Amon-Ra St Brown will be an NFL starter from day one. The ability to lineup inside and outside, his physical blocking for a receiver, and his punt return ability will stand out to NFL teams. A great route runner and the ability to work well in the short, intermediate, and deep parts of the field will see St Brown excel at the next level.
Expect Amon-Ra St Brown to draw comparisons to Keenan Allen and you know why i am taking him here.
2.05: Zamir White (RB) – Georgia
We've seen a slew of running backs take over as rookies over the last few years and Zamir White seems one of the best options to start as a lead back in his first season. He might not be the most exciting player in the year's draft or the best pick in the mock draft, but the former five-star recruit has a pedigree to not be ignored. Removed from two ACL tears, the risk is certainly here. But his ability to bounce back and improve from 2019 to 2020 leads me to believe his injuries are behind him. While White lacks some elusiveness, his technical skills as a runner and explosiveness through the offensive line should help him out in the NFL.
2.06: Tylan Wallace (WR) – Oklahoma State
What can I say? I love wide receivers. And I love Tylan Wallace. In his only full – non-COVID affected – season in 2018, Wallace was beyond impressive, totalling nearly 1,500 receiving yards and 12 touchdowns on 86 catches. While Wallace isn't especially big, he makes up for it with his ability to create separation in routes with his speed, almost freakish athleticism and knack for finding the ball in the air. Wallace is a great value in the second round of your rookie drafts.
2.07: Justyn Ross (WR) – Clemson
This is a wide receiver, prior to an off-season surgery, had the potential to be a number one wide receiver prospect in the upcoming draft and definitely a potential top-5 overall player. Yes, there is risk with Ross and a possibility he does not enter the draft. But, the potential upside is huge here. This is a guy with fantastic body control and separation skills. Doctors are immensely positive and he will likely get clearance to be back to fully active soon, right now he is participating fully with the exception of tackles. He entered 2020 with 112 passes for 1,865 yards, 17 touchdowns in 929 snaps over 14 career game starts. He will be an absolute stud should his rehab go as expected.
2.08: Mac Jones (QB) – Alabama
Not sure if my colleagues forgot this was SuperFlex but I got what might be the safest option after the top 2 QBs. Efficient and accurate, Mac Jones has the highest QBR in NCAA history. Landing spot will be key but Jones should never be going outside the Top 10 in SuperFlex drafts. This was the no brainer of all no brainers and his value should only increase after the NFL draft. I can only wish to have a real draft steal fall the way this one did for me.
2.09: Kadarius Toney (WR) – Florida
Toney capped off his final season in Gainesville as the leading receiver for Kyle Trask. While Toney failed to produce much prior to his Senior season, it is fair to wonder if this was due in large part to the poor play he endured from the quarterback position prior to this season. I do not expect Toney to light up the combine necessarily, and his College Dominator will be a red flag for me. However, if he is able to secure high draft capital in the first or second round come April, it will be hard to pass on him in the late second round of rookie drafts.
2.10: Terrace Marshall Jr. (WR) – LSU
Ja'Marr Chase is getting all the hype I know, but Terrace Marshall Jr. put up 46 rec for 671 and 13 Td's in 12 games his sophomore year with Chase and Justin Jefferson in the lineup.
Fast forward to 2020, His junior year he took full advantage of Chase opting out. With 48 rec. for 731 and 10 Td's in only 7 games and this was without Burrow as his QB.
I have this young man as my 4 WR off the board in a deep receiver class. He will be a steal in the second round.
Comps
Ceiling – Alshon Jeffrey // Floor – Ted Ginn Jr.
2.11: Kyle Trask (QB) – Florida
Since this was a SuperFlex mock I was very excited to have Kyle Trask from Florida still available so late. This Heisman runner-up is definitely a player I'd be willing to pick up and stash for the 2021 season.
He is a bigger bodied QB standing at 6'5" 240 pounds and has a pretty nice deep ball. Trask finished his senior year leading the NCAA in 2020 with 4,283 yards and 46 total touchdowns. He also looked good hitting his receivers in stride on post routes and has precision when making over the shoulder throws putting the ball where only his receiver can catch it.
Trask will need some grooming as most players do. For a player of his caliber he could definitely play at the next level but may need a year or two before he gets his shot.
With his size and ability to throw the deep ball I compare Trask to Ben Rothelisberger and Jameis Winston. Both quarterbacks have had excellent fantasy seasons leaving room for Trask to compete for a starting roster on an NFL team in his career with tons of upside in fantasy.
2.12: Chris Olave (WR) – Ohio State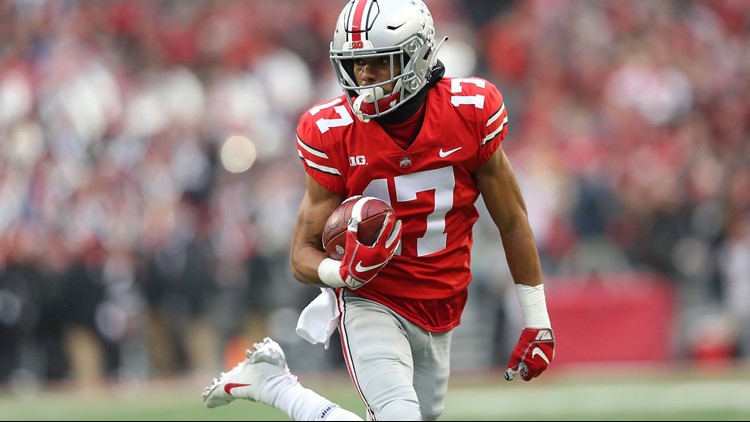 Talk about a bummer. I thought Kadarius Toney was going to make it back to me. Deciding between Seth Williams and Chris Olave was tough. But Olave is a polished route runner, has incredible separation skills, and a high football acumen to allow him to be an immediate producer at the professional level. His small stature and inability to make catches in traffic concern me, but if used as a team's second receiver, he should be a fine WR3 or flex option and at 2.12? I'll take this everytime.
Thank you for reading Fantasy Intervention's 2021 Rookie Mock Draft (1.0). I will make sure to keep the mock drafts updated and bring a fresh one every three or four weeks. I will keep an average draft position for the rookies as we do our mock drafts.
We'll be bringing you another mock draft after the NFL draft with updated analysis. In addition to this mock draft, the Fantasy Intervention team will be drafting a league live. Make sure to Join Our Circle on Twitter to be up-to-date with news and mock draft schedules. Also check out our YouTube channel where you can watch our live shows and easy-to-digest Quick Shots.
Thanks for reading!