Next up is the AFC West in the four-question series. We look at each division and the most pressing questions needing to be answered from the lens of a redraft, single quarterback, 12-team, full-PPR league.
AFC West: Denver Broncos
Who will be the starting quarterback?
We know that the suspects are Drew Lock and Teddy Bridgewater. Still, the starting quarterback entering Week 1 is the mystery to be solved. Lock is the incumbent and is a better fit for what the offense needs. He has a cannon for an arm and the ability to light up defenses. Unfortunately, he's averaged 6.6 yards per attempt with 23 touchdowns and 18 interceptions through 18 games. In addition, Lock has only completed 57.3 percent and tied for the league lead in interceptions with 15.
Bridgewater is more accurate as he has connected on 66.5 percent of his passes but led the league in five red-zone turnovers. He only threw 15 touchdowns with 11 interceptions, failing to put the Panthers in the win column in eight tries on the final possession. The result will more than likely see both Lock and Bridgewater trading off throughout the 2021 season.
Fantasy Implications: Lock and Bridgewater should be avoided outside of two-quarterback leagues. However, if you want to take a chance on one, it should be Lock.
AFC West: Kansas City Chiefs
Will Clyde Edwards-Helaire finish in the top-12 of running backs?
With tempered expectations, Clyde Edwards-Helaire saw success as a rookie. He rushed for 803 yards and four touchdowns while catching 36 passes and adding another score making him the RB22 in PPR leagues. Edwards-Helaire finished 13th in yards from scrimmage and 16th in fantasy points for all rookie running backs over the past five seasons. However, many believe Edwards-Helaire disappointed after drafting him as an RB1.
Fantasy gamers put Edwards-Helaire as a first-round selection when Damien Williams chose to hold out due to Covid. Unfortunately, the Chiefs didn't run enough to support a top-five running back, and Edwards-Helaire fell. Over the last three seasons, Kansas City has averaged just 81 to 86 rushing yards per game, ranking in the bottom ten of all teams.
Edwards-Helaire had two outstanding contests against Houston and Buffalo but only averaged 3.9 yards per carry in 11 other games. Looking forward to 2021, he will again be the bell cow as Jerick McKinnon, and Darryl Williams doesn't pose a threat. Edwards-Helaire will need to be better around the goal line and catch the ball with more effectiveness. The offense should thrive, putting Edwards-Helaire in a great position to be a robust producer in fantasy leagues.
Fantasy Implications: Edwards-Helaire has a definite possibility of being a top-12 running back, but it's a difficult road for him to reach it. Consider the RB12 as a ceiling and the RB25 as his floor.
AFC West: Las Vegas Raiders
Will Henry Ruggs showcase why he was the first wide receiver off the board in 2020?
When the Raiders drafted Henry Ruggs as their 12th overall selection in the first round, they were not expecting him to fall flat on his face. However, after catching just 26 passes for 452 yards (17.4) and two touchdowns, that's what he did. His 17.4 yards demonstrate his downfield capability, as does his 10.5 yards per target, but only catching two scores is problematic—and so are his 26 receptions.
The physical skills for Ruggs are there as he runs a 4.27 40, 42-inch vertical, 131-inch broad jump. The ceiling for Ruggs is what Nelson Agholor (48-896-8) achieved last season, and those numbers placed Agholor as the WR33. Agholor is gone, and Derek Carr will need to choose between Ruggs and free-agent acquisition John Brown.
Still, the quarterback is more familiar with Ruggs, and if the Raiders can get him into space, he has the explosion to take it to the house. For Ruggs to take advantage of his first-round status, he will need to improve and demonstrate more highlight-reel catches and garner Carr's trust.
Fantasy Implications: The Raiders have a top-35 WR on this roster, and Ruggs can be that guy. With so many different mouths to feed is going to be an arduous task for him to achieve WR3 status. He is going as the WR55 on FantasyPros, but a climb to WR35-40 is in the cards.
AFC West: Los Angeles Chargers
Is Justin Herbert the real deal?
Justin Herbert came into his rookie season as the backup to Tyrod Taylor. It took one regular season contest and one medical error to thrust him into action. Herbert proved he should have been the Week 1 starter as he threw for 311 yards and a TD with one interception. As the season progressed, Herbert would break rookie records in touchdowns (31) and finish fourth in yards (4336). Herbert was good under pressure completing 54.9% of his passes which was third-best in the league.
Unfortunately, we have seen plenty of quarterbacks and players be one-year wonders, and many decline in their second season. However, history is on the side of Herbert. The last 14 signal-callers who put up top-20 per game statistics as rookies, only five posted lesser numbers in their second season who played in 14 or more contests. Those five were Daniel Jones, Geno Smith, Robert Griffin, Matt Ryan, Vince Young.
Herbert won't likely be one of them. In fact, in each of the last four seasons, a second-year quarterback has put up the best numbers in the NFL—Carson Wentz, Patrick Mahomes, Lamar Jackson, and Kyler Murray. Herbert outscored all four in their rookie seasons and all four went on to have better sophomore campaigns. The data suggests if the trend continues, he should have a better season than all four.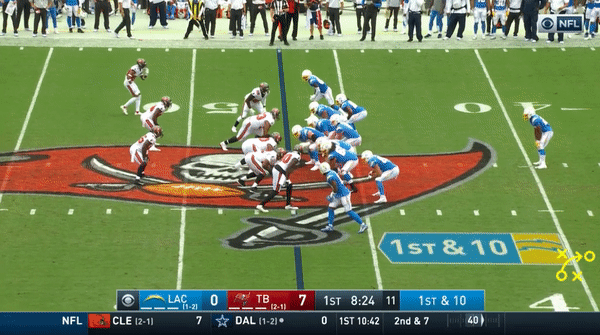 Herbert has a QB8 ADP on FantasyPros, and he finished as the QB8 last season. Herbert has familiar weapons in Keenan Allen, Mike Williams, and Austin Ekeler, as Jared Cook replaces Hunter Henry. Herbert doesn't run a lot; he was 14th for quarterbacks (234), but it's enough to keep his floor from bottoming out.
Fantasy Implications: Herbert certainly appears to be the real deal as he shouldn't dip past a QB12. However, a QB5 is his ceiling. In either case, he is one of the safest early quarterbacks you can draft.
Follow Mike on Twitter at @RFLRedZone
As our shows start to build back up, make sure you check us out on YouTube!