Much more than a shakeup. Undoubtedly, one of the biggest trades of the decade. The Rams agreed with the Lions to move Jared Goff – along with a slew of draft picks – for Matthew Stafford. It's the first time since the 1970s two first-overall picks have been involved in a trade.
Many saw this as a mind-blowing transaction which could have massive implications moving forward. Goff is seen as somewhat of a thrown-in, but how did a quarterback who was just in the Super Bowl in 2018 become a side piece?
In 2016 the Rams acquired their franchise quarterback by trading up with the Titans. They sent a total of two first-round picks, two seconds, and two thirds – over the course of 2016 and 2017 – to select Goff first overall. Goff was figured to be the quarterback who could return the franchise to the Greatest Show on Turf days.
Under subpar play-calling and a poor offensive system, Goff struggled to produce. He finished his rookie season losing all seven of his starts. In those seven, he compiled just over 1,000 yards in the air with five touchdowns and seven interceptions on 205 attempts while completing 54.6 percent of his passes. This led to a league-worst 4.3 adjusted air yard gained per attempt (AY/A) which calculates the aforementioned stats. General manager Les Snead decided it was time for a change.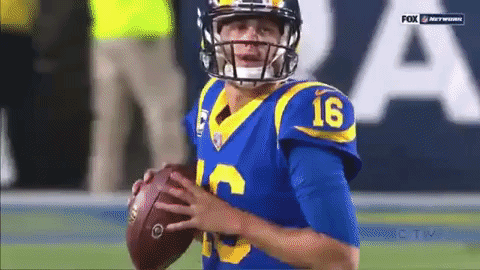 The Rams brought in offensive guru Sean McVay as their new head coach and Goff thrived. The Rams went from dead last in the NFL (14.0 points per game) to third in 2017 (28.9) and second in 2018 (30.8). Goff was on fire, boasting top-ten finishes in yards and touchdowns while finishing top-five in AY/A in each season. He led them to the Super Bowl in 2018 which finished in a disappointing loss to the Patriots where the Rams couldn't move the ball. To many experts, this game is what laid the blueprint of how to shut Goff down.
Over the next two years, the marriage between McVay and Goff wasn't as sweet. Following the Super Bowl loss, the Rams allowed guard Roger Saffold to walk in free agency and opted to decline the option on John Sullivan. In addition, they neglected the offensive line in the draft. They didn't take one in the first two rounds since 2015 and the result was disastrous.
Goff's play under pressure has been horrific and there was a lot of pressure in 2019. By Week 5 they were the worst-rated offensive line and Goff was playing carelessly. He had the seventh-most interceptable passes and the third-most dangerous plays. By December, the Rams had one starting offensive lineman from 2018: 38-year-old Andrew Whitworth.
Goff's 2019 stats didn't tell the whole story as he was still top-ten in the league in passing yards. However, his inability to protect the football was going to set the stage for 2020.
Even with the offensive line struggles in 2019, the Rams neglected to address the position in the offseason. Instead, they decided to change the system. While most NFL staffs headed to the Scouting Combine, McVay and his co-ordinators stayed back to redesign the playbook. They simplified the routes and called more quick hits. Goff went from 7.7 air yards per attempt, down to 6.3 which fit Goff's skill set. Meanwhile, trading receiver Brandin Cooks didn't help as the explosive pass-play rate dropped from fourth all the way to 18th. Both were major factors leading to the decline of Goff's numbers.
The system was working: Goff threw fewer inceptions, interceptable passes, and had less dangerous plays; his completion percentage was at an all-time high, and the Rams made the playoffs. But, it's not how McVay envisioned his path to a second Super Bowl. Forcing to tone down his system in order to make sure it tailors the quarterback's limitations is not how he wants to win; being 22nd in scoring is not how he wants to win. So he sold the farm to get a gunslinger in Stafford.
Goff is now headed to a franchise that has just as many consecutive losing seasons as they do playoff appearances since 2000 (three). You tell me which is worse. However, not all hope is lost.
Breaking down the Lions regime can show why they wanted Goff. Lions new general manager Brad Holmes was the Rams director of college scouting. He's a major reason why the Rams traded up to draft Goff. He knows Goff's limitations and now brings his guy back and gets draft picks with it. The Lions have no issues with the salary cap space as they can purge multiple pieces on this roster and start their rebuild, meanwhile, they have a young, up-and-coming offensive line, who ranked 10th in efficiency.
The Lions have drafted two or more offensive lineman in the first four rounds twice in their history; two have come in the last four years.
Lions Offensive coordinator Anthony Lynn specialized in getting his running backs and slot receivers the ball in space while with the Chargers. His system allows for short, efficient completions which draws safeties and corners up to the line. The short passing volume results in occasional, efficient down-field shots; a system which fits Goff's skill sets. Former Chargers quarterback Phillip Rivers saw one of his highest completion rates for a three-year span during Lynn's time as head coach and Justin Herbert had the second-highest completion percentage for a rookie with over 300 pass attempts in NFL history. Cowboys Dak Prescott was the only one higher and he attempted 146 fewer passes.
There are issues at wide receiver and plenty of holes to fill across this entire roster, but there's not an entire system across the NFL which would fit Goff better. Detroit should be down in most games unless we see a significant improvement on defense. This could lead to a third-straight season of Goff attempting over 500 passes (a number which 12 of the top 14 fantasy quarterbacks hit). I don't know if Goff is the long-term answer for the Lions. I don't know if he will start beyond 2021. However, referring back to Jakob's Cellar Dweller to an Emerging Dynasty and Evan's Dynasty Reads, his current acquisition cost could be a golden ticket for quarterback-needy teams in fantasy. Get value; get Goff.
Make sure you check out the Fantasy Intervention team and subscribe to our YouTube Page.
You can find me on Twitter @FF_Intervention. View my bio here.