Maneuvering Talent – Rookie Quarterbacks
The 2020 NFL and Fantasy Football season was highlighted with three intriguing rookie quarterback prospects: Tua Tagovailoa, Joe Burrow, and Justin Herbert. Their contributions to the NFL and the fantasy football scene were varied.
What I mean is the quarterbacks' record varied and their fantasy football production varied. Here is the rookie quarterbacks' record:
Obviously the teams' roster construction varies since the Miami Dolphins are a more complete team compared with the Cincinnati Bengals. But I think you get the point. However, fantasy is different. Do these quarterbacks need to have team success to be relevant?
This article will use Pro Football Reference's "NFL Fantasy Rankings" and their points per reception – PPR – scoring finish from 2010 through 2020. This scoring, provided the decimal, compared with the fantasy points finish whole number. 
Introduction
Redraft and dynasty – where you keep all your players each season – are different but share the overall goal – to win. Whether people want to admit it or not, dynasty is closer to redraft than they want to think. Your league will vary depending on the settings but there seems to be a shift in the industry from 1QB leagues to superflex leagues, where you have the option to start two quarterbacks.
This makes the overall value on quarterbacks spike. It is more advantageous to have a starting quarterback in your superflex spot since they generally warrant more points for your weekly score. Having two elite options gives your team a significant advantage compared with a team having one QB1 and a QB2/3 who may not consistently put up 18+ points per game.
Rookie quarterbacks fluctuate from being the heir apparent to being the starter. The 2020 rookie class, for their various reasons, had three prolific quarterbacks starting for their respective teams. But do rookie quarterbacks translate to Fantasy Football production?
Translation to Fantasy Football
The 2020 rookie quarterbacks' record varied. Tagovailoa was more successful when you look at the overall team's record. Does team success mean anything for a rookie quarterback's production? Here are the 2020 rookie quarterback's production (PPG):
Tagovailoa: 14.0
Burrow: 17.90
Herbert: 22.90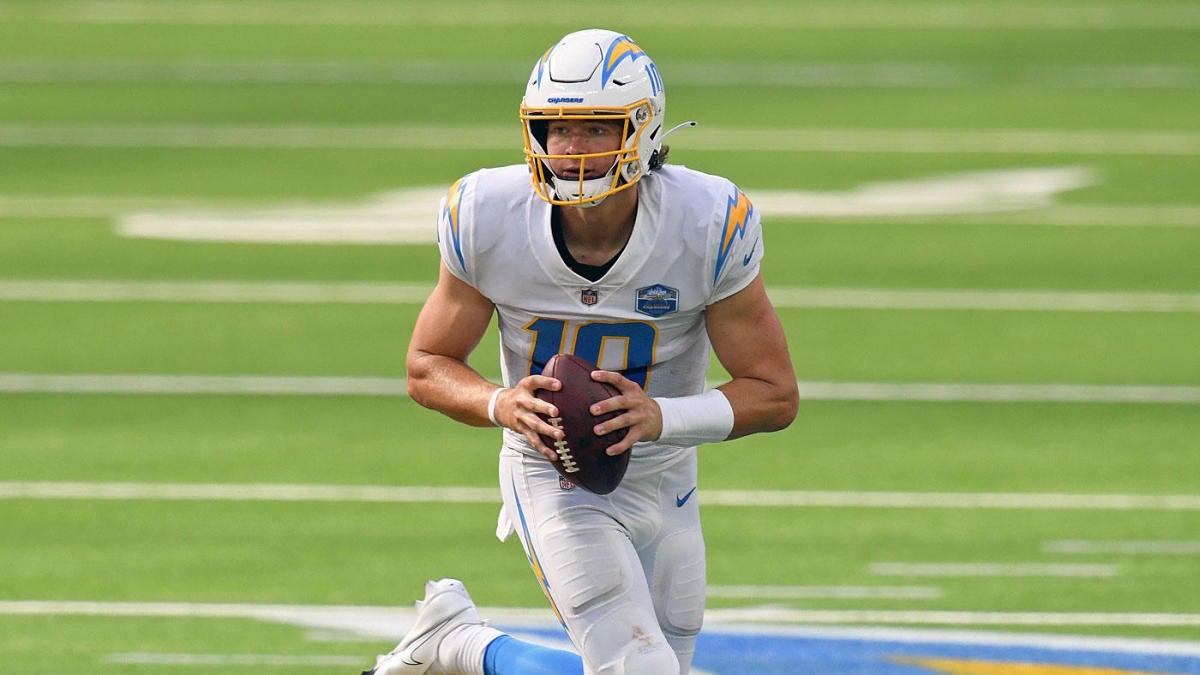 Interesting. Tagovailoa may have had the better record but was not the better fantasy performer, he was actually the lowest PPG scorer. Does garbage time influence fantasy performance?
Garbage Time
We have all experienced the last minute touchdown winning us the game but also losing the game. It is frustrating. It happens. It's part of fantasy. Garbage time is the duration of an NFL game where points do not matter, the game has been decided. There is two minutes left and Team A is dominating Team B by the score of 49-17 and Team B gets a touchdown in the last minute of the game.
Tagovailoa had the best record and the worst fantasy points per game. Herbert led the rookie quarterbacks in fantasy points per game. Did garbage time influence Herbert? Could this be why Herbert is scoring eight more points per game? 
No, it is not. Herbert has scored 61% of his touchdowns in the first half of the game — Herbert has only scored four touchdowns in the fourth quarter. Variable eliminated. This variable potentially can be true for other quarterbacks. Cowboys' quarterback Dak Prescott (2019) was knocked because many believed that garbage time inflated his scoring. Prescott scored 27% of his touchdowns and 30% of his yards in the fourth quarter. Prescott scored 9% of his touchdowns when the Cowboys were leading with four minutes or less in the game. Variable eliminated
Rookie Quarterback: Historical Performance
Since 2010, there have been six rookie quarterbacks who finished the season as a Top-10 fantasy quarterback.
There have been two notable quarterback finishes: Colts' Andrew Luck (2012) finished .10 points behind the QB10 and Texans' Deshaun Watson (2017) averaged 24.13 points per game over his first seven games before tearing his ACL.
Most importantly, one of these six quarterbacks is Herbert. He played in 15 games and still was able to put up Top-10 numbers, only Chiefs' Patrick Mahomes (QB4) and Ravens' Lamar Jackson (QB10) played in 15 games and made the Top-10 in 2020.
Here are the other notable rookie quarterback finishes dating back to 2010:
Watson and Jackson potentially could have scored in the Top-10 if they started the entire season, making that eight total rookie quarterbacks since 2010 to have a Top-10 quarterback finish.
Discussion
Historically, it is not ideal to go into a redraft or a dynasty season with a rookie quarterback as your QB1, 45% of the last 11 seasons did not have a Top-10 rookie quarterback finish. It should be noted in 2012 had two of the six finishes. redraft and dynasty vary tremendously when selecting a rookie quarterback.
In dynasty you might not have the choice, you have to start a rookie quarterback. Maybe your aging quarterback retired, your quarterback is getting replaced, or whatever the case may be, you have to start a rookie quarterback. This should not deter you from selecting a quarterback with your rookie picks, especially if you play in a superflex or 2QB league. You are playing dynasty after all. Trading for a quarterback when the value is spiked is a hard task to accomplish. Grab the quarterback when their value is the lowest during the rookie draft.
In redraft you have the option to draft a quarterback whenever you want. Late round quarterback is a viable strategy but just do not settle for the rookie quarterback. Sure, take a flyer on a rookie quarterback in the last few rounds, why not? Maybe it would work out like Herbert. Maybe. This strategy would benefit a keeper league — a 15th round rookie selection could turn to gold if the rookie defies the odds.
Stay away from starting a rookie quarterback in fantasy or dynasty, if you can. In redraft leagues it would be okay to take a late round flier as a bench stash or maybe a team doctor might puncture the lung of the opening season starter. A rookie quarterback can be appealing just do not let it fool you.
Follow me on Twitter for more Dynasty Content –> Corey Spala
—-> Check out my tight end article on how to navigate Tight Ends in Fantasy/Dynasty football.
—-> If you have never done a Dynasty league and are curious about how to draft in Dynasty start ups –> check out my Draft Strategy article