In 2017 the Chicago Bears made a colossal mistake. They not only selected Mitchell Trubisky with the second overall pick, but they traded up to do so. Fast forward to 2021; the Bears are hoping they didn't make the same mistake with quarterback Justin Fields.
Fields falling down the boards was mind-blowing to most. Many believed he should have been the second or third off the board. After breaking down Trey Lance, I can see why he was selected third in the NFL Draft and second in most dynasty rookie drafts. Following the research, could Fields slide down the fantasy ranks as he did in the NFL? Or does he surpass Trevor Lawrence for the top quarterback off the board?
The Bears History
The Bears have never been an organization known for great quarterbacks. Jay Cutler leads the franchise in passing yards with over 23,443, followed by Sid Luckman with 14,686 and Jim Harbaugh with 11,567. To put those totals into context, Culter's time in Chicago would have ranked him 90th all-time. It's not just the quarterback, however. It's the offense as a whole.
Over the past 30 years, the Bears have finished top ten in scoring and yards just four times. In addition, only eight offensive skill-position players made it to the Pro Bowl, with only Brandon Marshall selected as an All-Pro. As the Bears look forward to the 2021 season, they hope they can get their offense moving with their 33rd and possibly 34th quarterback during the 30-year span.
Coming off four straight years of being a bottom-ten offense from 2014 to 2017, the Bears knew they had to make some significant changes. Their mantra of defense wins championships was beginning to fall at the waist side as rules were changing and offenses were taking over. As a result, the Bears watched Super Bowls from the couch as each team who took home the Lombardi during that span was top-five in offense.
The Mistake Before Fields
In 2017 the Bears thought they were set after moving up one spot in the draft to select Trubisky. In doing so, they moved two third-round picks, a fourth, while passing on both Deshaun Watson and Patrick Mahomes.
After a horrendous rookie season in which Trubisky threw for less than 2,200 yards with under a 60-percent completion rate, general manager Ryan Pace decided to take the franchise in a different direction. Aside from a failed experiment with Marc Trestman, the Bears organization has always had defensive head coaches. Pace wanted to stay on course with the program but soon realized if Trubisky was going to have any shot, they needed an offensive guru.
Everything Is Going To Be Okay…
In 2018 they fired John Fox and went with Cheifs offensive coordinator Matt Nagy. Nagy kept the offense simple, and Trubisky's sophomore season was a success. He threw for 3223 yards with 24 touchdowns and 12 interceptions, adding 421 yards and three touchdowns on the ground through 14 games. His efficiency was up significantly, completing 66.6-percent of his passes for 7.4 adjusted yards per attempt – AY/A – with a 95.4 quarterback rating.
The Nagy and Trubisky combo was working. He was quietly leading the Bears to nine wins over their final ten games, the only loss coming in overtime when Trubisky was sidelined with a shoulder injury. In all fairness, they didn't let Trubisky pass more than 31 times during those wins, and the defense was the best in the NFL. However, it did show the Bears could win with Trubisky as they finished the year 12-4, only to have their hearts broken in the playoffs on a missed field goal.
The start to 2019 was promising, as they started 3-1, but not without issue. Week 4 Trubisky tore a labrum in his shoulder, and the Bears plummeted to an 8-8 record. The Bears fans weren't happy and demanded a change. Trubisky wasn't as advertised, and it showed in the box scores. Every stat regressed in 2019, but one stuck out like a sore thumb: AY/A.
In the 11 games Trubisky played following his injury, he only had three with over six AY/A, leading to an average of 5.87. In comparison to 2018, he finished with seven of his 14 games above six. The torn labrum most likely affected this, but was it all on Trubisky?
Was It All On Trubisky?
He was still throwing it deep as he was 17th in deep target completion percentage and 11th in deep ball attempts per game. Even with him chucking it, they were 31st in the NFL for explosive play rate, only ahead of the Panthers.
Part of the issue was in his top two receivers failing to make plays after the catch. Anthony Miller and Allen Robinson ranked 100th and 148th out of 155 in yards after the catch per reception. The Bears were the only team who didn't have a pass-catcher top 13 yards per reception. The deep targets yielding fewer yards after the catch or Trubisky's subpar target accuracy could be blamed, but the pass-catchers didn't help the situation. They were 22nd in yards of separation per target and tied for sixth-most dropped receptions per target (minimum 500 passes). Although the receivers could do better, it wasn't all on them.
The play calling in 2019 was brutal, especially with the horrendous offensive line play. Trubisky had the 32nd ranked protection rate, yet they were 27th in play-action rate and 30th in pre-snap motion percentage. Typically coaches use play action to freeze linebackers, giving quarterbacks more time to throw.
The Bears didn't run enough on early downs to set up the play-action as they ranked ninth in early-down pass rate. While averaging 3.9 yards per carry on first and second down – tied for 6th worst — it's no surprise Nagy didn't want to run. However, Trubisky was at his best on play actions and clean pockets.
When it came to the lack of the pre-snap motions, maybe Nagy was trying to keep it simple for Trubisky. However, movement allows the quarterback to predict blitzes and find mismatches. The Ravens, 49ers, and Chiefs – all top offenses – were some of the most motion-heavy teams in 2019. Apparently, Nagy didn't take a page out of his previous boss Andy Reid's playbook.
Nagy and Pace were determined to improve at quarterback in 2020. They traded a compensatory fourth-round pick for Nick Foles resulting in a disaster. Trubisky won the starting gig as he led them to 2-0 before getting benched for Foles halfway through Week 3.
As the offensive line struggled, so did Foles. Lacking mobility, Foles failed to escape the blitz and deliver accurate passes with defenders in his face. He was even frustrated with Nagy's playcalling as the plays took too long to develop. He had a 32.8-percent pressured completion rate (31st), while Trubisky thrived with a 48.7-percent completion rate (3rd). Although they both took 18 sacks, Trubisky was the far better option in 2020 due to his legs and regained the starting job in Week 12.
In 2021 the offensive line might see a slight uptick in efficiency, but rookie Teven Jenkins and free agent Elijah Wilkenson were the only additions while cutting former Pro Bowl left tackle Charles Leno. Whoever is back there is going to have to navigate the pocket again. With the Bears opting to sign Andy Dalton while letting Trubisky walk, Fields might hear his name called sooner than expected.
Fields' Profile
Fields was a highly touted prospect out of high school. He has the third-highest ranking of any quarterback in history, behind Lawrence and Vince Young. After landing behind Jake Fromm on Georgia's depth chart, he transferred to Ohio State, where he dominated for two straight years.
Fields showed off his arm strength, ability to run, and understanding in deciphering coverages while working through progressions — a contrast to popular opinion. At 6'3, 227, he shows ideal physical traits. Looking at it from the outside, he could make him an incredible quarterback at the professional level. However, his struggles seem to lie in his habits.
Fields has issues feeling pressure and recognizing the blitz. In his two years with Ohio State, he took 52 sacks in 22 games — or 2.36 per game. In comparison to the other 2021 first-round picks:
Even Dwayne Haskins – the Ohio State quarterback who preceded Fields – only had 1.43, and he wasn't considered mobile.
While discussing Fields getting sacked once on every 12 plays, Greg Cosell notes:
"More often than not, quarterbacks that move get sacked more," Cosell said. "The offensive line pass protects based on the play call.
"Quarterbacks who have always been able to make plays with their legs tend to move prematurely. And when you move prematurely, you yourself disrupt and blow apart the pass protection call, and you will often get sacked more than quarterbacks who don't move."

Greg Cosell
While his statement may be true, this is something the Bears can not afford and must be corrected if Fields succeed in this offense. In 2018 when Trubisky was successful, the Bears were fourth in pass-blocking efficiency. In 2019 and 2020, they were 20th and 25th. Either the blocking needs to revert to 2018, or the play calling needs to include more quick hits.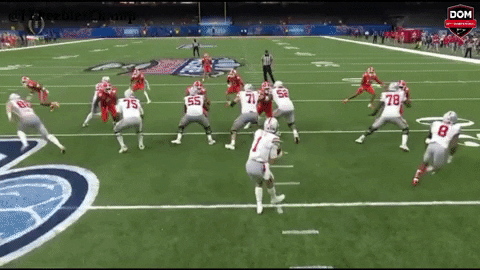 Fields also needs to improve on not locking down on one receiver and his arm mechanics. His delivery time was the longest of any first-round pick in the draft, while his tendencies telegraph his intentions. These are not deal breakers and can be fixed with the right coaching. However, these flaws could lead to far more turnovers at the professional level.
What to Expect from the Organization
Not much? It seems as if the Bears can't multi-task. They were so hyper-focused on finding a quarterback, it seemed they forgot about the rest of the offense. After missing out on Deshaun Watson, they brought in Dalton. However, it kept them from acquiring other pieces on the offense. After cutting Kendall Fuller and saving $11 million in operating space, there was a thought they could pursue Kenny Golladay. Instead, they predictably just added to their defense.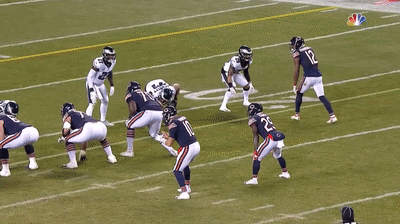 It's possible Pace and Nagy are playing for their jobs in 2021 so signing Robinson seems like a no-brainer. If they had signed him to a multi-year deal, it would have freed up cap space and allowed them to make moves at playmakers like Will Fuller or even a cheaper option like Marvin Jones. However, they are neglecting to lock Robinson which is baffling.
It seems as if they are their own worst enemy. One of Fields' best arguments could be that the Bears fail in 2021 and a new regime takes over.
Chicago's Roster Construction
Pace and his staff are widely recognized as an organization behind the ball on recognizing offensive talent. They drafted Darnell Mooney, Anthony Miller, Riley Ridley, Javon Wims, Cole Kmet, and David Montgomery since 2017. They hit on Allen Robinson in free agency but outside of him, they signed Taylor Gabriel, Cordarrelle Patterson, Jimmy Graham, Trey Burton, and Mike Davis (then drafted the aforementioned Montgomery shortly after).
If the Bears don't sign Robinson, we could be looking at a barren roster in 2022. They only have 43 players on their active roster, and most of those are backups. As mentioned above, this could be the perfect year to initiate a rebuild, similar to what we saw with the 49ers. However, this might not be ideal for a second-year quarterback. The silver lining could be the rushing upside if he gets better at identifying the blitz.
Fields' Development with Youth
Ok. The only silver lining isn't the rushing ability. Jenkins could anchor this offensive line for the next 15 years, Mooney showed significant flashes – highlighting an ability to get open – and Kmet could be a stud. Kmet, in particular, could be someone worth focusing on as he did well once he got the ball in his hands; the issue was getting it there. He had the second-worst target quality rating (3.9), yet had just as many yards after the catch per reception as Hockenson (4.8). Fields should be far more accurate and dependable.
The issue is the Bears have compromised the majority of their early picks since 2019. They only have seven selections in the first three rounds from 2019 to 2022. They have also traded away multiple fourth and fifth-round picks during the process. Sometimes when you whiff on draft picks as Pace has, the solution would be to trade them away for stars, but this has left Fields with limited options.
If Fields is going to impress in the near future, he has to develop a rapport with the slot. Miller has an 86.3-percent slot rate and has shown excellent hands while struggling to find quality targets. He still only had four drops and could be the safety value for Fields if he sees pressure. Miller's college profile and rookie season – with seven touchdowns – has left fantasy owners wanting.
Lastly, Fields has to connect with Mooney deep. Mooney had 739 unrealized air yards compared to only 418 completed air yards. Meanwhile, he had a target separation of 1.77 (35th). He was open, but they couldn't hit him. Fields has shown an ability to deliver deep balls accurately and should drop bombs to Mooney for years to come.
Fields' Future Outlook
When I started this article, I thought for sure Fields would surpass Lance in my rankings. I even drafted him in some leagues ahead of Lance while trading out from picking Lawrence to select Fields and accrue more value. I might have made a mistake. Fields has a lot working against him, including an unknown future as soon as 2022.
To succeed, Nagy has to change his play-calling to accommodate Fields — and not just in his rookie season. Fields has a lot of work to do, especially when it comes to picking up the blitz. Since 2000 the 13 rookie quarterbacks who were sacked at least 36 times (the same amount as Foles and Trubisky combined in 2020), only two have had relevant careers in terms of fantasy points. Nine of them were first-round picks, while the other four were selected in the second and third. The organization methods are the biggest concern, however. They haven't been able to build a successful offensive roster and the history shows it.
Fields will be fighting against the odds. Although I expect him to start sooner rather than later, I hope for his case they don't. The Bears were 8-8 last season and made the playoffs with brutal quarterback play, so they most likely believe they could win now. Fields is good enough to win now, but could this situation hurt or help his development? The last thing the Bears franchise should want is for him to start seeing ghosts.
Fields is currently my third quarterback falling firmly behind Lance. I'm curious if Wilson can surpass Fields in my rankings after seeing the organizational tendencies of the 49ers. If Saleh can install those same tendencies with the Jets, it's possible Wilson could move up the charts.

Find out on next week's installment of Stabilize Your Future.
Don't miss any of Chase's other work! You can find him on Twitter at @FF_Intervention
Be sure to follow us on YouTube and hit subscribe! Check us out on Spotify and ITunes! Give us a follow on Twitter @JoinOurCircle_!