Matt Cassel, Ryan Mallet, Jimmy Garoppolo, Jacoby Brisset, and now Mac Jones. The Patriots have always been able to put somewhat of a mirage around their quarterbacks when Brady wasn't able to play. However, when each one has the opportunity to save a franchise, they seem to fall short of expectations. Combined, their records are 13-6 with the Patriots while being 62-72 on other franchises. Without Garoppolo and the 49ers defense, it plummets to 40-64.
While there are numerous reasons for certain players failing while others succeed, the Patriots have always given their quarterbacks a system which fits their skill sets. For example, they kept Cassel, who was known to have a weak arm, throwing close to the line of scrimmage. In 2007 and 2009 Brady had an average target distance of 8.1. When Cassel took over for 15 games after an injury to Brady, he averaged 7.2 yards per attempt. Another example of the Patriots playing to their quarterback's strengths is Brisset averaging eight rushes per game while starting.
Whether the offensive coordinator has been Charlie Weiss, Bill O'Brien, or Josh McDaniels, the message has been clear: Put the quarterback in a position to win with their strengths.
The Patriot Way
The Stabilize Your Future series has had plenty of twists and turns to say the least. However, the Patriots are somewhat vanilla regarding consistency: not much change at head coach, coordinators, owner and up until recently, quarterback.
Cam Newton played poorly in 2020, and although he will most likely start the 2021 season, he isn't the future of the Patriots franchise. In the 2021 Draft, experts expected the Patriots to move up and select Newton's replacement, but they didn't have to. Instead, they sat at 15 as they watched Alabama stud Mac Jones fall to them.
The Patriots not trading up to secure Jones or another quarterback shouldn't be much of a surprise. The Patriots haven't traded up to grab an offensive player in the first round since 2002. The majority of their trades throughout the draft involve them moving back. The system created stability around the franchise and the sound decision-making has been evident through the majority of their other organizational decisions.
Since 2000, the Patriots have only had three offensive coordinators and four defensive coordinators. Brady was at the helm when healthy, and they start the returning players most years. Up until 2021, they never broke the bank in free agency outside of the cornerback position. In addition, they get constant production from their rookies.
The Constant Development
Aside from 2017 – when they only had four draft picks – and 2014, the Patriots have had at least three of their rookies play a significant role. They do such a great job developing their draft picks, after their rookie contract, those players demand more money. The Patriots can't afford to pay all their previous draft picks big money on their second contract, so they go elsewhere.
In return, the Patriots receive compensatory picks and end up repeating the process. They have been awards 42 compensatory picks since 2000. Only the Ravens (48) have been awarded more.
So, where does Jones fit into this perfectly modeled franchise?
Jones Profile
The 6'3, 217-pound Alabama product has a feather-like touch with excellent placement. Jones's play could be described as smooth as he has precise touch on the ball and moves around the pocket very well. Sitting behind Tua Tagovailoa in college helped the four-star high school recruit develop as he struggled in relief during the 2018 season.
After Tagovailoa got hurt in 2019, Jones stepped up by amassing a 68.8-percent completion rate on his way to 1,503 yards and 14 touchdowns with only three picks. Then in 2020, he set an FBS record for completion rate with 77.4-percent. He finished with a school-record of 4,500 yards and 41 passing touchdowns. However, how much was it him over his supporting cast?
Excluding the quarterbacks, seven offensive players from Alabama were selected in the 2021 class and three in 2020. Of those ten, eight were taken in the top 40 picks. In comparison, there was no other school to have more than two first-round picks in the 2021 draft. In addition, the six by Alabama is the most offensive players selected from one school in history. To say Alabama was stacked is an understatement.
Jones benefited heavily from the talent around him. He locked in on certain receivers because he knew they would beat their coverage instead of going through reads and finding open guys. He also wasn't great at fighting off contact or dealing with pressure because he never had to; Jones's offensive line was dominant and kept him off his back.
These are all things which can be improved but will have to do so in-game. Developing these skills are done from experience so there will be plenty of growing pains to start Jones's career. It will be interesting to see how Bill Belichick and company handle his development moving forward. In Week 3 of 2019, the Patriots were blowing out the Jets. Bellichick wanted to see what he had in his rookie quarterback Jarret Stidtham. After getting sacked then throwing an interception, Belichick immediately benched him; Stidtham attempted one pass the rest of the year.
Even with some negative reviews, Jones's passing talent is something to marvel at. His laser-like accuracy and soft touch make him one of the best throwers in this draft. When he gets in rhythm, he's unstoppable. He also plays smart and doesn't make dangerous throws which is something Bellichick values. Jones has all the tools to be successful; now, he just has to improve in areas he didn't often see with Alabama.
What to Expect from the Organization
The Patriots have been great with young quarterbacks. However, after their quarterbacks move on to other teams, they struggle. Aside from the four noted in the introductory paragraph, they did well with Brian Hoyer and, of course, the greatest of all time in Brady. All except Brady and Garopollo regressed into backup roles and aren't seen as starters. As for the quarterbacks drafted who didn't work out, there were only five, and all of them came in 2010 or earlier except seventh-round pick Danny Etling in 2018. The question is, do the Patriots do well developing them, or are they just excellent at masking their weaknesses?
With rookie quarterbacks, all you might need is a few years of hiding their weaknesses. The Cowboys Dak Prescott is a shining example as he was thrust into the starting role as a rookie. He struggled against pressure and with intermediate to deep throws. However, the Cowboys surrounded him with one of the best offensive lines, which only allowed 25 sacks and limited his attempts to 459 — both good for 23rd in the NFL.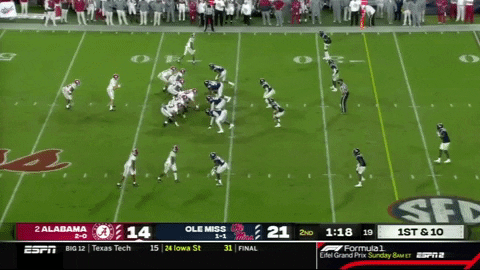 As the Patriots build their offense, Jones would do best learning on the sidelines first. Their offense line took a hit when they lost guard Joe Thuney to the Chiefs. They did bring in tackle Trent Brown, but it takes time for offensive lines to mesh. In addition, they have two new starting receivers and two new tight ends who are learning a foreign system. So before throwing a rookie who struggled with the mental aspect, Belicheck is likely to make sure the players surrounding him know the alignment.
Jones's Development with Youth
The Patriots have never been great about adding young skill-position players. James White, Julian Edelman, Rob Gronkowski, Deion Branch, and arguably Ben Watson are the only skill position players drafted by the Patriots since 2000 – outside of quarterbacks – who have had productive careers.
The lack of successful picks could be the absence of attention given to the area. Since 2000, the Patriots have only drafted 19 players in the first three rounds who played tight end, running back or wide receiver. Only five of those were selected in the first round.
It seems as if the Patriots either don't value skill position players early or know they are better at evaluating other positions. Of those 19 players selected in the first three rounds, only Gronkowski made it to the Pro Bowl. Moving forward with a young quarterback, they will have to improve.
History suggests the Patriots will try to get the most out of their starters on their last year. The compensatory picks mentioned above are valuable to this franchise. With the current roster, five starters over 30 could bring a fifth-round selection or better if they leave for free agency in 2022. The catch is they have to play well.
If Newton plays poorly, there could be a shift in the offense. Jones could see the field earlier with veterans Nelson Agholor, Kendrick Bourne, Jonnu Smith, and Hunter Henry as his playmakers. However, the most crucial pass-catcher he needs to develop a connection with is 23-year-old N'Keal Harry. With Jones's accuracy and Harry's contested catch ability, these two could be a lethal duo for years to come.
The Future Outlook with Jones
One would say the Patriots are the model of success, but there are massive amounts of mystery behind their operation. Therefore, trying to assume the direction of the franchise is somewhat fruitless. There is one thing for sure; Jones is in good hands moving forward. Stability, offensive creativity, understanding of development, and a proven track record are all on the Patriots side.
The issue could be how much the Patriots utilize the passing game and what is Jones's upside? While speaking with Mike, he believes the Patriots revert to 2004 when they were 22nd in pass attempts while riding Corey Dillon to a Super Bowl. I'm not sure they can do so with Damien Harris as their feature back, but I believe they slow the game down for Jones. Limiting his pass attempts will also limit mistakes.
I'm on board with Jones having a high floor. In fact, he might be the most bust-proof candidate if you believe in the system. However, I wouldn't be surprised to see a Baker Mayfield-type ceiling. As mentioned, Jones loves the stud receivers, and he doesn't have one. So until the Patriots prove they can add a top-tier option, I'll take the conservative road with Jones.
Jones will fall in line as the fifth-rated quarterback in the 2021 class. There's not as big of a gap between him and Zach Wilson as is with Trey Lance and Fields, but there's still a gap. Make sure you check back next week as I summarize Stabilize Your Future.
The Series
Don't miss any of Chase's other work! you can find him on Twitter at @FF_Intervention
Be sure to follow us on YouTube and hit subscribe! Check us out on Spotify and ITunes! Give us a follow on Twitter!