Zach Wilson is about as mysterious as an M. Night Shyamalan plot twist. The soon-to-be 22-year-old has a gunslinger mentality with the face of a high school senior going to prom. Going from BYU to the New York Jets isn't a small move, especially when your starting day one because the organization traded away former first-round pick Sam Darnold. So will the Jets be able to mold him into a future star? Let's take a look at the young buck in this segment of Stabilize Your Future.
The Jets Quarterbacks
The Jets have always been one of those franchises where they lift hopes just to crush them. Boomer Esiason, Vinny Testaverde, Chad Pennington, Mark Sanchez, Brett Farve, and Sam Darnold gave the Jets hope for a season or two, only resulting in seven playoff births. Over the past 30 years, the defense has had some great ones, but the offense has only ranked top-ten in points scored twice and yards gained once.
The organization has repeatedly attempted to fix the offensive woes. They have drafted 12 quarterbacks since 2006 and haven't had two consecutive years of not selecting one since 2004 to 2005. Unfortunately, the reality is the Jets don't give their quarterbacks much help. When Jerricho Cotchery is inside the organization's top ten for receiving yards, there has been an issue acquiring talent at the position.
The Jets have always been somewhat predictable: Win with defense and bring on a quarterback who is slightly more than a game manager. In 2019 they went off the schedule for the first time since 1995 when they hired former Eagle head coach and offensive coordinator Pete Kotite. This time they chose the offensive-minded Adam Gase.
The Jets Need Offense!
After winning the Super Bowl with Peyton Manning in Denver, Gase was considered an offensive guru. However, the Dolphins offense never finished better than 24th as he led them to a sub-500 record. In addition, players flourished after they parted ways with Gase — most of them feeling alienated.
Ryan Tannehill has been successful in Tennessee. Kenyan Drake had his best season with Arizona, scoring 18 touchdowns in 23 games compared to 9 touchdowns in 54 games with Miami. Damien Williams had a career year in Kansas City and DeVante Parker has his breakout year following Gase's departure. Needless to say, he had the same effect on the Jets.
They spent the third overall pick in 2018 on Darnold and in his first year under coach Todd Bowles it wasn't pretty. He threw for under 3,000 yards, under a 60-percent completion rate, and almost as many interceptions as he had touchdowns. Following the face plant, the Jets were motivated to get this pick right. Their next step was to find a quarterback whisperer.
Unfortunately, the Jets didn't get it right. Gase was proven to be an epic fail, but it wasn't all on him.
What is Wilson Walking Into?
The offensive line was one of the worst in the league. They ranked 28th and 31st over the next two years. They also failed to give Darnold weapons. Jameson Crowder did well in 2019 but couldn't stay on the field in 2020. The case was similar with rookie Denzel Mims and free agent Breshad Perriman. After letting Robby Anderson walk, they were forced to roll out lineups with Chris Hogan, Braxton Berrios, and Josh Malone. To say they had a mismanaged roster was an understatement, but yet general manager Joe Douglas didn't hear people calling for his job.
Since the start of the 2020 season, people were insisting Gase get fired. However, Douglas played it smart. If Gase wasn't in New York, there wouldn't be anyone else to blame for the Jets' failures magnifying the roster mishaps further. So Douglas held on to Gase till the end of the season, buying him another year.
Gase didn't leave the Jets without a parting gift, however. To close out the 2020 season, Gase won two of the final three games and took them out of the top spot in the NFL Draft. Now, instead of landing Trevor Lawrence, Douglas had to figure out who would save his job.
2021 was Douglas' first year in which he was able to select his quarterback in the first round. With the second overall pick, he honed in on Wilson and never looked back. Now the future of the franchise is in the hands of a young rookie and former 49ers defensive coordinator Robert Saleh. Let's dive into the situation and see if Saleh and Wilson can succeed amongst one of the toughest divisions in the NFL.
Wilson's Profile
The comparisons for Wilson vastly vary. They start at Johnny Manziel and stretch as far as Aaron Rodgers. Yet, it seems as if he currently gets praise for the same things he struggled with during 2019 — the chips just fell his way in 2020. His "bombs away" mentality led him to throw nine interceptions compared to just 11 touchdowns in his sophomore campaign.
Moving forward to 2020, Wilson saw an incredible improvement. His completion rate skyrocketed to 73.5-percent for 3,692 yards with 33 touchdowns and only three interceptions. Tack on ten rushing touchdowns with 254 yards and you can see why the Jets loved what they saw.
Wilson's release is one of the best in this rookie class. His deep ball is impressive and his ability to sense pressure also became a strong suit — something Wilson struggled with tremendously in 2019. Through nine games in 2019, he was sacked 19 times compared to just 11 times through 12 games in 2020. Although the Jets addressed their line with first-round rookie Alijah Vera-Tucker, right tackle Morgan Moses (expected to sign), and depth piece Dan Feeny, Wilson will still see plenty of pressure in 2021. The Patriots and Dolphins were top 12 in pressure rate, while the Bills added two pass rushers in the first two rounds of 2021.
What to Expect from the Organization
The most intriguing piece to this puzzle how the Jets hierarchy will operate. Offensive coordinator Mike LaFleur followed Saleh over from San Francisco, where he was the passing game coordinator. He will call plays for the Jets after being on Kyle Shannahan's hip since coming into the league in 2014. As a result, the playcalling should be similar to the 49ers: Lots of wide-zone runs adding a good mix of quick-hitting and play-action passes with a healthy dose of movement before the snap.
Shannahan's system loves to exploit matchups. They do so by calling pre-snap motions. Because the 49ers run so often, teams keep bigger defensive packages on the field. Shifting their receivers, such as Deebo Samuel and Brandon Aiyuk, will force linebackers into coverage. It doesn't end well for the defenses. They motioned on 70.5-percent of their plays in 2020. The league average was around 40-percent.
Look for the Jets to apply a similar philosophy this season. LaFleur will likely approach the running back position with a committee and call an amplitude of runs. A run-first offense should take the pressure off the rookie and force defenses to stack the box. Receivers on the outside – most likely Corey Davis – will see one-on-one opportunities while receivers in the slot and at the "Z" will see the movement underneath with a low average depth of target.
The constant movement underneath will open up deep-ball opportunities. Jimmy Garopollo led the league in deep ball completion percentage in 2019, while Nick Mullens led in 2020. If Wilson is even a shadow of himself from college, this could be the perfect marriage. He has the best completion percentage (74.1-percent) of any college quarterback since 2012 for balls thrown 30 yards or more.
However, don't expect to see Wilson slinging it as he did with BYU. The 49ers have been bottom ten in deep ball attempts every year since Shannahan came to San Francisco: Low volume, high quality.
The Jets Roster Construction
Although Douglas could be partly to blame for the Jets not winning with Darnold, he does have some key pieces in place to turn this offense around. After drafting left tackle Mehki Becton with their first pick in 2020, they went offensive line again with the aforementioned Vera-Tucker, then signed Moses. What was once one of the worst units in the league could be pushing top ten eventually if they show cohesion.
The rest of the offense will take some time to develop, but the Jets seem to be heading in the right direction. As the vice president of player personnel for the Eagles, Douglas watched the Eagles build around Carson Wentz and win a Super Bowl. They had a top ten run blocking and pass blocking line each season during his four-year tender. It's not a surprise he's going this route with the Jets as well.
Look for the Jets to focus on the defense next. They signed some big names, such as Carl Lawson and Sheldon Rankins, but they seem as if they want to build through the draft. They brought 11 rookies for depth pieces and currently have seven starters on defense who have been in the league for three years or less. Of course, most positions have to be upgraded or developed, but once again, the approach is eerily similar to the Eagles rebuild.
Also, for the first time since Herm Edwards, the Jets are going to be running a 4-3. The edge, opposite of Lawson, will need to be addressed. They also need some studs in the secondary. However, C.J. Moseley returning after a year off, the addition of Jarrad Davis, and the number of young players added could allow them to grab some offensive pieces early in the draft if they see a player they fancy.
Development with Youth Surround Wilson
The Jets situation is, dare I say, exciting? The Jets have 21 picks over the next two years, with ten in the first three rounds. For a team who couldn't cover or tackle, prior should be to heavily invest in the defense, as discussed above. However, they could still sneak in some interesting players on offense with the gluttony of selections.
Regardless if the Jets decide to go defense-heavy in the 2022 and 2023 draft, Wilson has some skill positions players who could help him make that next step. The issue is, there are massive amounts of potential with minimal proven talent.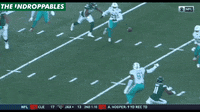 2020 second-round pick Denzel Mims was a stud for Baylor, racking up 28 touchdowns and almost 3,000 yards in three seasons. At 6'3, 207, he destroyed the combine with the third-fastest 40, the fourth-best broad jump, and the fastest three-cone.
In Mims' rookie season, he had the worst catchable target rate in the NFL (minimum 40 targets). Meanwhile, his 14.1 average target distance was 12th. Even with his 14.1 yards per target, he finished with a 42.1-percent contested catch rate with at least ten contested targets. Only Nelson Agholor saw a larger target distance and finished with a higher contested catch rate. Mims could be the ideal deep receiver for Wilson and should flourish in the offense, similar to Marquise Goodwin in his first year with San Francisco.
Rookie receiver Elijah Moore could be a favorite of Wilson's. He was phenomenal in finding space, catching everything thrown his way, and making magic with the ball in his hands. He only had two drops on 101 targets while forcing 18 missed tackles playing out of the slot. The more impressive aspect was his vast route tree as Ole Miss operated their offense through him. Moore led the team in yards from the line of scrimmage by more than 350. He is the ideal player to slide into this offense and make an immediate impact out of the slot. However, he might have to wait with the Jets working out a new contract with Jamison Crowder.
The most mysterious piece to this offense is Cory Davis. Davis signed a three-year deal with two guaranteed. $12.5-mill is the fourth highest AAV contract in history by a wide receiver who changed teams in free agency. The former fifth overall pick hasn't eclipsed 1,000 receiving yards in a season while maxing out at 65 catches and five touchdowns.
Part of why Davis' signing is so mysterious gravitates towards LaFleur never coaching a player with Davis' skill sets. The closest players physically were Josh Gordon and Julio, but their playing styles aren't remotely comparable. It will be interesting to see if Davis ever becomes a focal point with a quick-hitting offense or if he will be used to primarily make third-down grabs while seeing some red-zone opportunity. However, it would be shocking if a rookie quarterback heavily targeted a player who struggles to gain separation in an offense which features getting receivers open.
Davis is likely a temporary bridge, but at 6'3, he could still add value to Wilson. Keelan Cole should also help Wilson develop as he was able to evade coverage. Darnold didn't have a single receiver in the top 50 for yards of separation per target, which resulted in him constantly holding onto the ball; Cole finished 19th in 2020.
Once again, there are pieces to help Wilson grow, but the Jets will likely need a tier-one pass-catcher moving forward. Moore will be a great secondary option. Mims has the profile to be the go-to receiver, but he needs to show he can develop as a tertiary option first. They still need an alfa.
Wilson and the Future Outlook
Wilson is in an intruiging spot. His situation is reminiscent of The Other Guys when Mark Wahlberg references himself to "being a peacock" before all hell breaks loose. They can't let Wilson fly. Not yet.
It all might seem right with the Jets, but we've seen how quickly the New York media can turn on their quarterbacks. If Wilson is going to succeed in New York, he needs protection with long-term development in mind. The coaching scheme is perfect and the way the front office is building a foundation worked for Wentz. However, Wilson now needs an upgrade on weapons and possibly offensive line.
If the Jets are patient, Wilson has all the physical tools to be a top-ten quarterback in the NFL. However, after doing the research, I don't believe he can carry a dysfunctional franchise. His ceiling isn't as high as Justin Fields, Trey Lance, or Trevor Lawrence's, but I feel his floor is solid. It feels weird saying this, but I trust the Jets organization with Saleh leading the way. It is nerve-racking because it's the Jets, but the feeling would be different if it were almost any other franchise.
Currently, Lawrence is my top quarterback, with Lance coming in second after breaking down Fields. I know Fields rushing upside is tremendous, so I'll still take Fields in dynasty straight up over Wilson. However, I wouldn't be shocked if Fields wasn't relevant and Wilson is borderline top five within three years. If this were to happen, the Jets would have to call significantly more passing plays than I expected. However, it is in the realm of possibilities. If I were to get a good offer where I could move back from Fields and still get Wilson, at this point, I'd take it.
Find out on next week's installment of Stabilize Your Future.
Don't miss any of Chase's other work! You can find him on Twitter at @FF_Intervention
Be sure to follow us on YouTube and hit subscribe! Check us out on Spotify and ITunes! Give us a follow on Twitter @JoinOurCircle_!