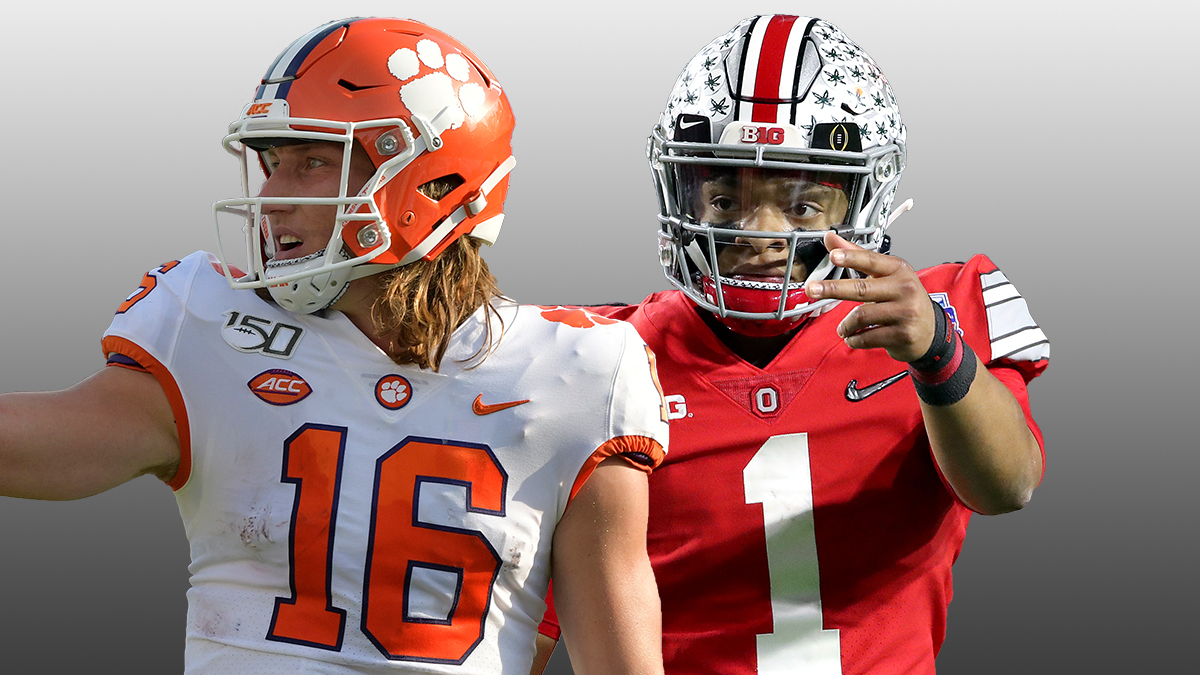 It is the most wonderful time of the year; NFL Draft season is upon us. Well, NFL Mock Draft season is upon us, and you are bound to see a million mock drafts between now and draft day. If you are like me, you will also probably do a million mock drafts yourself.
The 2021 NFL draft will see franchise altering decisions setting up your favorite team for the next decade. Will Aaron Rodgers get some help with a new wide receiver? Will the Jets take a quarterback? Who do the Kansas City Chiefs add to their loaded roster? All of this will be answered in the first Fantasy Intervention Mock Draft.
This is my first mock draft after the Week 17 slate of games, so final drafting positions have yet to be settled. It is without trades, although many teams will need to/want to trade up or down to fill their needs. Keep an eye out for changes moving forward and leading up to the 2021 NFL Draft.
1. Jaguars – Trevor Lawrence QB (Clemson)
Let's not overthink this Lawrence is the best college prospect since Andrew Luck and Payton Manning. Jacksonville gets the face of their franchise.
2. New York Jets – Penei Sewell OT (Oregon)
Only the second pick, and things could already get interesting with the Jets on the clock. Selecting Mekhi Becton in the first round last year and taking Sewell – the best offensive lineman in this draft – will protect whoever plays quarterback for the Jets for the next decade. The Jets need protection as they currently rank 28th in sack rate for 2020. 
 3. Miami Dolphins (Via Houston Texans) – Devonta Smith WR (Alabama)
Devonta Smith is the best wide receiver in college football this year and, in my opinion, the 1B in this draft class. Slating him going to the Dolphins makes sense as they need help on the outside and stretching the field. Reuniting Smith with quarterback Tua Tagovailoa gives instant chemistry and can help the Dolphins with a big playoff push next year. 
4.  Atlanta Falcons – Gregory Rousseau EDGE (Miami FL)
Atlanta has two options here, quarterback to replace Matt Ryan or improve the pass rush. Picking Rousseau, who had 15.5 sacks in 2019 (He opted out of the 2020 season), this need is addressed. While not the crispest prospect in the draft, the production and athleticism make him a sexy early pick.
5. Cincinnati Bengals – Rashawn Slater OL (Northwestern)
The Bengals need help on the offensive line to protect Joe Burrow, who finished the season on the Injured Reserve. Missing out on Sewell hurts, but they can pick up the next best lineman here. Slater's ability to play all along the offensive line has him a day-one starter for the Bengals.
 6. Philadelphia Eagles – Micah Parsons LB (Penn State)
The Eagles need some help in a few areas, but linebacker is arguably the most significant need on the team. Parsons (who opted out of the 2020 season) is the best linebacker in the draft with his best ability to rush the passer. This is a massive hole filled for years to come, which allows them to chase talent surrounding quarterback Jalen Hurts.
7. Detroit Lions – Ja'Marr Chase WR (LSU)
The best wide receiver in the draft falls to the Lions, who will need some offensive weapons. Kenny Golladay is a free agent who could be on his way out in Detroit, especially if the Lions face a cap crunch. A good building block with D'Andre Swift and Ja'Marr Chase will have Lions fans excited for the years to come.
8. Carolina Panthers – Justin Fields QB (Ohio State)
The Carolina Panthers have top tier Wide Receivers and maybe the best back in the NFL and signed Teddy Bridgewater to a three-year deal before the 2020 season. I have two options for the Panthers here, but if Justin Fields falls this far (he most likely won't), the Panthers should select him. I have Fields rated as the 2nd best quarterback in this draft, and any other year would be the first quarterback off the board. The Panthers get a franchise quarterback who can have the same effect as Cam Newton did in his time in Carolina.
 9.  Denver Broncos – Caleb Farley CB (Virginia Tech)
Farley is a former quarterback with only two years playing as a cornerback. His tendencies of being ultra-aggressive sometimes lead to mistakes and big plays allowed. The inexperience could lead to some struggles early, but the athleticism projects him as a long-term shutdown corner. Vic Fangio will limit some of these struggles, but adding an uber-talented cornerback will help the Broncos move forward.
 10. Dallas Cowboys – Jaycee Horn CB (South Carolina)
The Cowboys need help in their secondary. The loss of cornerback Byron Jones was a huge blow and it was evident as the Cowboys were 26th in opponent passer rating allowed. Horn could step up and make an impact immediately. Like Farley, Horn has the type of physicality you want to anchor your defense, except it can also be his downfall. Expect Horn to get flagged a bit in year one as he appears to be prone to holding from time to time, which will get noticed more in the NFL than in college. In saying this, the Cowboys would be happy to have the corner to improve their secondary and toughness, as would the other 31 teams in the league.
11. New York Giants – Kwity Paye DL (Michigan)
The Giants could use some defensive line help and they pick up an extremely athletic Kwity Paye from Michigan. Paye compares favorably to Michigan alumni Rashan Gary with shorter arms and not a tremendous amount of production, just without the same recruiting legend. A physical freak, big blue gets a cornerstone piece to their defense moving forward.
 12. San Francisco 49ers – Zach Wilson QB (BYU)
The 49ers are heading towards a bit of a cap crunch, and fans still aren't sold on Jimmy G as the starting quarterback for San Francisco. BYU's Wilson has the elite arm strength and velocity to throw from all angles., The 49ers have been desperate for a quarterback who can unlock their receivers in Deebo Samuel, Brandon Aiyuk and George Kittle. A franchise quarterback is too hard to pass up, and if they can get off Jimmy G's contract, the 49ers could be soon back in super bowl contention.
13. LA Chargers – Patrick Surtain II CB (Alabama)
A little run of corners here see's Surtain go to the Chargers to improve the secondary with a healthy Derwin James returning in 2021. Physical at the line and mature beyond his years, Surtain doesn't have the same ceiling as a Denzel Ward or a Jeff Okudah, but he will be a solid corner for many years to come.
 14. Minnesota Vikings – Alijah Vera-Tucker OL (USC)
The Vikings get a versatile offensive lineman who can play guard and kick outside in a relief role to solidify an offensive line with one of the best backs in the league in Dalvin Cook. The Vikings win when Dalvin can have running room, which then leaves the play-action available to Jefferson or Thielen and Vera-Tucker will help protect Cousins.
15. New England Patriots – Kyle Pitts TE (Florida)
The Patriots miss out on their franchise quarterback in this draft but get the best tight end. Kyle Pitts is an absolute physical beast think Darren Waller 2.0. If he was listed as a wide receiver, he would be first off the board. The Patriots reinvent their offense and have a new fan favorite reminiscent of a former Tight End in New England.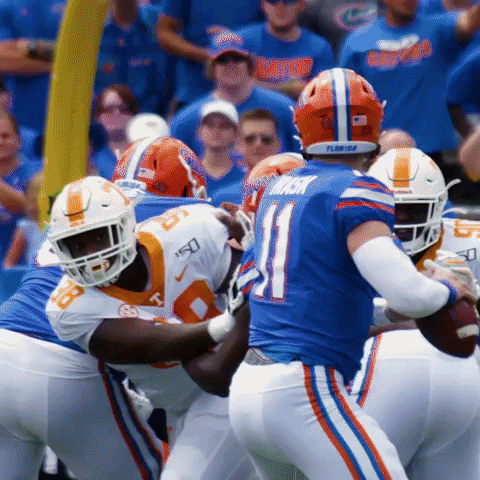 16. Arizona Cardinals – Christian Darrisaw OL (Virginia Tech)
Kyler Murray is a franchise quarterback, and he has offensive weapons that can cause problems for the NFL for years to come if he can be kept upright and healthy. Virginia Tech's Darrisaw has the ability to play either tackle position and fits the bill of looking out for a franchise quarterback. The Cardinals could go defense here but invest in the offensive line to keep Kyler upright is the right choice for them.
17. Las Vegas Raiders – Jayson Oweh EDGE (Penn State)
The Raiders are screaming out for a pass rush and Oweh from Penn State will help them with this pick. Although not recording a sack in the 2020 college season, Oweh had career highs in tackles for loss and tackles and an 18% pass rush win rate, one of the highest in the Big Ten conference. A long-term project rather than a short-term improvement, the Raiders add depth to their pass rush, something they lacked tremendously throughout 2020. 
 18. Miami Dolphins – Zaven Collins LB (Tulsa)
The Dolphins have built themselves a superior defense, but they can add my favorite player in the draft Zaven Collins with this pick. Another Isaiah Simmons type defender who astounds with his movement as a 260-pound beast. With his versatility as a pass rusher and his coverage skills, he could be the steal of the draft if he falls to Miami at 18.
19. Washington Football Team – Mac Jones QB (Alabama)
The Washington Football Team drafted a quarterback in the first round only two years ago, which didn't work out so well with Dwayne Haskins being released. With a young scary-looking defense and a stud wide receiver in Terry McLaurin, all they need now is someone to throw him the ball. Mac Jones can sit behind Alex Smith for a few games to learn from a pro, but with his ability to drop a pass into tight coverage, Washington gets their franchise quarterback… they hope!
 20. Chicago Bears – Jaylen Waddle WR (Alabama)
The Bears could also use a quarterback, but with Allen Robinson, a free agent, why not grab the fastest receiver in the draft. Waddle coming off an injury that will cause him to slip in the draft, has supreme athleticism and precision route running. Waddle has a remarkable ability to high point catches when contested; all he needs is to remain healthy.
 21. Jacksonville Jaguars (Via LA Rams) – Samuel Cosmi OL (Texas)
You have just selected your franchise quarterback with the first pick so what you need to do now is protect him at all costs. Playing both tackle positions, Cosmi has the experience to be moved from side to side whenever required with no hassles. With a little work on his pass protection to complement his run blocking, Cosmi projects as a right tackle who can slide to left tackle and protect Trevor Lawrence, the new face of the franchise.
22. Indianapolis Colts – Rondale Moore WR (Purdue)
The Colts already has a top NFL Defense and they have some nice pieces on offense. TY Hilton is a free agent at the end of the 2020 season, and at 31 years of age, I don't see him returning, enter Rondale Moore out of Purdue. Think a shorter Laviska Shenault and that's what the Colts will be getting with this speedster.
23. Cleveland Browns – Jeremiah Owusu-Koramoah LB (Notre Dame)
The Browns have some solid young linebackers on the team at the moment, but they don't have anyone like Owusu-Koramoah out of Notre Dame. In today's NFL, you need defenders who can stay on the field in all situations, which is what he can do. A tackling machine, listed as a linebacker but reminiscent of Cardinals' Isaiah Simmons, who you can cite his position as a defender.
24. Tennessee Titans – Terrace Marshall Jr WR (LSU)
Corey Davis is a free agent and the Titans need another weapon to compliment AJ Brown. LSU's Marshall Jr. played third fiddle in 2019 to Justin Jefferson & Ja'Marr Chase, showing he can thrive as a secondary or tertiary option. However, if need be, he can also be "the guy". In only seven games in 2020, Marshall Jr averaged over 100 yards per game. With great hands, size, speed, athleticism, and the ability to play out wide or in the slot, Marshall Jr gives the Titans two high-quality receivers for the future.
25. Tampa Bay Buccaneers – Carlos Basham Jr EDGE (Wake Forrest)
The Buccaneers have Shaq Barret – a pending free agent – and Jason Pierre-Paul (32) providing pressure off the edge. Following those two, there isn't much else. Basham Jr. helps as he posted 33.5 tackles for loss and 19.5 sacks in his last 31 games for an undermanned Wake Forrest. The Bucs can get more defensive talent and get younger at the same time by taking this high-motored edge rusher.
26. Baltimore Ravens – Rashod Bateman WR (Minnesota)
The Ravens lack receiving options as Marquise Brown hasn't reached the potential everyone was hoping he would and Mark Andrews is the closest thing they have to consistency. Primarily used on in routes at Minnesota, Bateman is much more than a slot receiver. He has the ability to beat the defense over the top while excelling in the short game—a much-needed upgrade in Baltimore to this already potent offense. 
27. New York Jets (Via Seattle Seahawks) Trey Lance QB (North Dakota State)
The Jets have solidified their offensive line, and after missing out on Trevor Lawrence, they select the best remaining quarterback in the Draft, Lance. The Jets will need to cater the offense around what Trey Lance does best, which is use his athleticism to set up his passing game, which will require continued work. If they can do that, the Jets will rise again to be a playoff team.  
 28. Pittsburgh Steelers – Najee Harris RB (Alabama)
The top running back in the class, Harris, goes to a team that loves using a bell-cow back. A physical back with quick feet and acceleration who can run between the tackles with ease and on the outside with pass-catching ability. Harris is a three-down back who can have great success in a Mike Tomlin offense, much like Le'Veon Bell used to.
29. New Orleans Saints – Joseph Ossai LB (Texas) 
The Saints are in Salary Cap hell heading into the 2021 season. Projected to be a whopping 99.3 million dollars over the cap means many players will be on their way out of New Orleans. One of those could be Kwon Alexander, so the Saints draft his replacement in Ossai out of Texas. He has the skill to play multiple positions so the Saints can have him line up where he can take advantage of a matchup. He can be a nightmare for opposing offenses.
 30. Buffalo Bills – Nick Bolton LB (Missouri)
The Bills don't have too many weaknesses on their team, but a player like Missouri's Bolton will make them better. Bolton is a terrific zone coverage linebacker who will make opposing receivers think twice about coming across the middle. The Bills improve their defense and make them a Super Bowl contender for years to come.
31. Green Bay Packers – Kadarius Toney WR (Florida)
Rejoice Green Bay fans, your team has finally selected someone to help Aaron Rodgers. A perfect complement to Adams, Kadarius Toney would be a steal for the packers at the end of the round with his ability to change direction and balance. Although lacking the elite speed of Waddle, he will make this Packers' offense even better when they have to guard both sides of the field.
 32. Kansas City Chiefs – Shaun Wade CB (Ohio State)
At the end of round one, the Chiefs add a versatile athletic defender who plays primarily against slot receivers. A tremendous tackler with excellent pass coverage skills, the Chiefs grab the best remaining cornerback. With having enough invested in the offense, they will continue to search for depth and talent on defense, allowing them to keep the balance and make another super bowl run.
Conclusion
With months left until the NFL draft, we will see these names constantly fluctuate throughout draft boards. Free agency and the combine will have a significant impact on how these teams look at the draft. Stay tuned for the next mock draft as we try to narrow down potential landing spots.
 Let me know who you like, who you think should be a first-rounder as you can find me on Twitter @BradBolt1 and @JoinOurCircle_